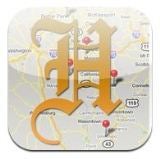 Apple mobile device users looking for the nearest haunted house this weekend, there's an app for that, too.
Haunted House — a location-based app that uses HauntedHouse.com's directory, which is supposedly the Web's largest and most comprehensive, to find haunts near you — is well worth the $2.99 download.
Once the app is opened, a red-pin-studded map launches that shows the creepy spots nearest you. Click on one to get details, such as a description, the venue's website URL, as well as directions that when clicked on bring you instantly to the route displayed on Google Maps. The only hiccup transferring to Maps, however, is that the app closes and you'll need to reopen it if you want to check out a different haunted house.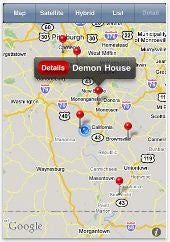 Haunted House also can be run with ghoulish music in the background and "scary" (albeit somewhat annoying) pop-ups that ominously say things like "Darkness falls across the land, heh, heh, heh." Thankfully, these options can be turned off.
According to the developers, the app is a complete rewrite of an older HauntFinder application which, unlike this one, works continuously without an Internet connection. HauntFinder was developed by HauntedHouse.com and Europa Pictures, creators of the popular Demon House in Monongahela, Pennsylvania.
Enjoy Halloween and the nearest haunted house.
See also "10 Creepy Mobile Games").