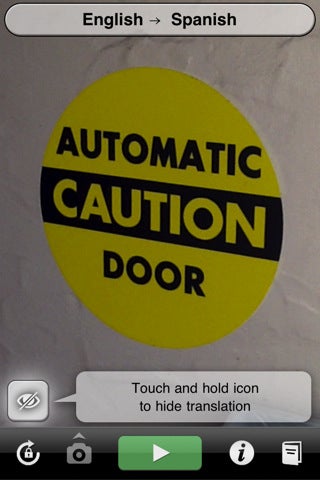 Apple's late founder Steve Jobs often talked about changing the world, and now one of the apps used on Apple mobile devices is being recognized for doing just that.
The developer of Word Lens, an application that instantly translates printed words through the camera of an Apple mobile device without needing an Internet connection, was presented a World Technology Award last week.
Otavio Good, whose mobile app has been called "magical" by PCWorld, joined the likes of Apple, Amazon, and SpaceX — the private space travel company started by PayPal and Tesla Motors co-founder Elon Musk.
Good says he got the idea for the app while touring Germany. "[I] was in a bookstore surrounded by things I couldn't read. Since I have a background in computer graphics from programming video games, I thought about getting my camera-phone to read the German text," he says.
World Technology Network Founder and Chairman James Clark says already others are imitating the year-old app, which he describes as a "breakthrough for international travel and another big step toward the fabled universal translator."
Word Lens, which currently only translates Spanish to English and English to Spanish, costs $9.99 for each language pair and works on the iPhone 3GS, iPhone 4, iPhone 4S, iPod Touch (4th generation), iPad 2 Wi-Fi, and iPad 2 Wi-Fi + 3G. It requires iOS 4.0 or later.
Good says his company, San Francisco-based Quest Visual, is working to add other language translation capability to the app.
The World Technology Summit convened last week in New York and culminated in a ceremony in which 20 awards were presented to institutions, companies and individuals for their contributions to long-term technology innovation.

The World Technology Network (WTN) has posted the entire list of World Technology Award winners as well as on-demand video for sale that covers the entire World Technology Summit and Awards.
The WTN's stated purpose is to "encourage serendipity — the happy accidents of colliding ideas and new relationships that cause the biggest breakthroughs for individuals and institutions." The WTN is a curated membership community comprised of the world's most innovative individuals and organizations in science, technology, and related fields.