In the past, the hacker collective known as Anonymous has launched cyber attacks on government agencies and financial powerhouses like Visa, Mastercard, and Paypal. Now it's threatening to bring its brand of involuntary public disclosure to one of Mexico's notorious drug cartels.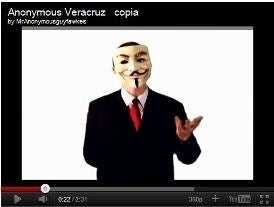 In a video posted to the Internet, members of the group vow to release the names and addresses of an unspecified number of people associated with the drug syndicate known as Los Zetas — which has been attributed with thousands of deaths and gruesome acts of retribution, such as beheadings — unless the drug lords release a member of Anonymous they kidnapped earlier this month from a street demonstration known as Operation Paper Storm in Mexico's Veracruz state.
In a transcript of the video translated from Spanish by the Houston Chronicle, Anonymous declares: "We can´t defend ourselves with a weapon, but if we can do this with their cars, houses, bars, brothels and everything else in their possession … It won´t be difficult. We all know who they are and where they are."
"You made a huge mistake by taking one of us," Los Zetas was warned by the Anonymous member in the video, who, according to the Chronicle, spoke continental Spanish but used Mexican slang. "Release him. And if anything happens to him, you (expletive) will always remember this upcoming November 5th." The date is Guy Fawkes Day, the anniversary of a 1605 uprising in the U.K., and the character whose image Anonymous members wear as masks. It appears to be a deadline for the release of the abducted Anonymous member.
While in the eyes of some, Anonymous's willingness to take on a drug cartel may appear to be a ballsy move, it could have dire consequences, according to a report by Stratfor Global Intelligence, an Austin, Texas- firm that analyzes global political, economic, and military trends and developments.

"If Anonymous carries out its threat, it will almost certainly lead to the deaths of individuals named as cartel associates, whether or not the information released is accurate," according to a copy of the report obtained by PCWorld. "Furthermore, as Mexican cartels have targeted online journalists and bloggers in the past, hackers could well be targeted for reprisal attacks."
"Simply disseminating information on cartel members will not significantly impede overall cartel operations," it says, "but if Anonymous carries out its threat, it will affect cartel associates and others the cartels could target for retaliatory attacks."
Death will be a certain consequence of any release by Anonymous of information on cartel associates. Cooperating with a cartel comes with danger, not only from the cartel a person is working for, but from rival cartels, the report explains. Taxi drivers — typically victims of extortion or otherwise forced to act as lookouts or scouts — are particularly vulnerable, the report adds. In areas such as Acapulco, in Guerrero state, reports of murdered taxi drivers occur weekly.
Although Anonymous has built its reputation for activism on attacks on government and corporate entities — such as recent attacks on the websites of the Texas Police Chiefs and Boston Police Patrolman's associations and Bay Area Rapid Transit in San Francisco — lately it has engaged in more conventional activism with its support of the Occupy Wall Street movement, as well as targeting the seamier side of the Internet with attacks on child pornographers.
Follow freelance technology writer John P. Mello Jr. and Today@PCWorld on Twitter.