Angry Birds publisher Rovio plans to sell official merchandise around the iconic game by opening its own retail store in China, according to a company official.
Finland-based Rovio is hoping to cash in on the game's popularity as Angry Birds has become the most counterfeited brand in the country, said Peter Vesterbacka, chief marketing officer for the company.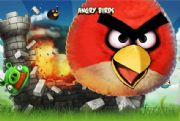 Vesterbacka made the comments at the TechCrunch Disrupt conference in Beijing on Monday. Before speaking to the audience, Vesterbacka brought on stage counterfeit balloons that were manufactured in the shape of Angry Birds characters. He joked that Rovio would steal the idea and begin making its own official Angry Birds balloons.
"Clearly there's a lot of demand for Angry Birds, but also for the physical products," he said. "We want to sell officially licensed products, we are proving there is demand."
Counterfeit Angry Birds products in China have extended to theme parks as well. In September, a Chinese theme park created a real-life Angry Birds game without the company's permission.
Rovio, however, has said it is proud to be the most copied brand in the country and is seeking to tap opportunities in the country. On the gaming side, Rovio aims to get to 100 million downloads in China for its Angry Birds game. It has reached 50 million downloads so far, Vesterbacka said.
To help the company expand in China, Rovio has opened an office in Shanghai in order to localize its products for the country's market. The company has already developed a Chinese version of the Angry Birds game, and is creating merchandise products including a Chinese-language Angry Birds cook book.
"We really want to be more Chinese than a Chinese company," he said. In the past Rovio has said it wants Angry Birds to become the country's biggest entertainment franchise.