Google celebrates Halloween with a time-lapse video Doodle of Google employees carving the company name into six ginormous jack o' lanterns. The video embedded into the Google search page uses HTML5 allows you to start and pause the video to discover funny and quirky scenes.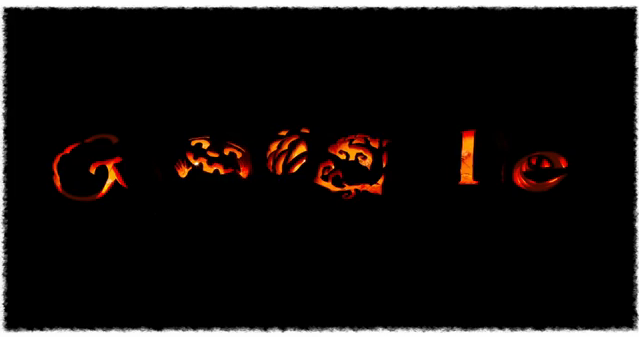 The giant pumpkins, weighing in at a 1000 pounds each, were delivered to Google's Mountain View, California campus from nearby Half Moon Bay. Google's "Doodle team" spent eight hours slicing into them while numerous costumed employees wander in and out of frame. According to Google, Santa Claus, the Village People, and the "peg man" from Google Maps are among those who make an appearance.
"The doodle team wanted to capture that fascinating transformation that takes place when carving a pumpkin," writes official doodle team member Sophia Foster-Dimino on the Google blog.
The embedded YouTube video graces Google.com and features a Serbian-styled soundtrack from Matt Moran and Slavic Soul Party!, according to Foster-Dimino.
The doodle also made a brief appearance a few days early when subscribers of Google's YouTube channel got a notification it had been uploaded, but it was quickly pulled down on Friday, according to one Google watcher on Google+.
Sticking with the company archetype, the doodle team approached the pumpkin-carving project as an engineering task.
"If we aren't careful, the whole pumpkin could collapse," explains project co-leader Stephanie Boudreau in the behind-the-scenes video below. "We want to make sure that they're creative and they're beautiful and they're artistic, but we also need to make sure that they're structurally sound."
To light the pumpkins, incandescent bulbs attached to a "flicker box" were used to simulate flickering candles, according to Google photographer Andrew Bender.
Google's Halloween doodle efforts have ramped up the past few years. Early doodles celebrating the ghoulish holiday integrated classic memes like witches, ghosts, and goblins into the company logo. In 2008, horror legend Wes Craven guest-designed an especially spooky logo, and then in 2010, a multi-panel, clickable doodle told the tale of a Halloween adventure featuring Scooby-doo, Shaggy, and the rest of the gang from the Mystery Machine.
Follow Eric on Twitter, and at ericmack.org. Follow PC World on Twitter, too.