Microsoft is bringing more of the Metro user interface to Windows 8's desktop, swapping frosted glass for sharp edges and minimalist icons.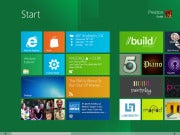 The aesthetic change, spotted by Engadget, was quietly revealed on Microsoft's Building Windows 8 blog in screenshots from a post on the operating system's new task manager. Gone is the "Aero" interface, introduced in Windows Vista, with its translucent window frames. The Metro aesthetic is sharper and simpler, with solid colors throughout.
By adding more Metro to the desktop, Microsoft is addressing complaints about the jarring switch between the desktop and Windows 8's new touch-optimized Start screen, which is decked out entirely in Metro. As the Chicago Sun-Times' Andy Inhatko put it, "Every time the classic Windows 7 interface pops up, it looks like a drunken uncle at an otherwise elegant family wedding."
A Metro look for the classic Windows interface could ease those transitions, but it's hard to tell without seeing it in action. Chances are, the transition between Metro-style apps and legacy Windows software will always be a bit of a shock.
In the past, Microsoft has allowed users to revert to older interfaces. For instance, you can make Windows 7 look like Windows XP by right clicking on the desktop, clicking "Personalize," scrolling down to "Basic and High Contrast themes" and selecting "Windows Classic." But for now, it's unclear whether Aero and the look of Windows XP will be available in Windows 8. Let's hope Microsoft addresses the Metrofication of the Windows 8 desktop in a proper blog post. The topic is at least as exciting as task managers.
Follow Jared on Facebook and Twitter or Google+ as well as Today @ PCWorld for even more tech news and commentary.