Every Halloween, PCWorld editors dig up some free scares for your desktop. Favorite fonts, themes, and screensavers haunt us year after year…and this October, a few new ghouls rise to capture your imagination. PCWorld's latest Halloween collection includes a frightening font, Windows 7 themepacks, and two exclusive wallpapers from horror artist Chad Savage of Sinister Visions.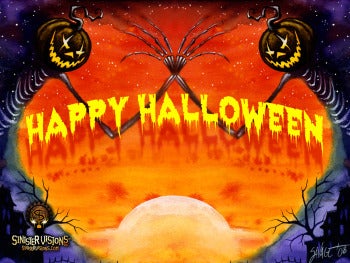 The zombies of Savage's Zombo-o-Lanterns Desktop Wallpaper appear to be dressing up as jack-o-lanterns, but with the determined way they reach their rotting fingers toward the viewer, nobody's giving them candy. They're after your brains. For a treat with fewer tricks, invite the deep blues and fiery oranges of Autumn Harbinger Desktop Wallpaper onto your PC. Two grinning pumpkinheads cross their skeletal hands across a backdrop of a setting sun and a sky brimming with stars. If it weren't for the golden "Happy Halloween," the scene could edge into November as a solemn harvest image.
Last year, the four horror-inspired fonts of Savage's Sinister Visions Font Quartet leapt out at readers. They, and several other favorites from PCWorld's font and screensaver collection, remain poised for the jump scares. We've invited Gary Pullin's creepy Ghoulish font to this year's Halloween party. Inspired by classic horror movie posters, this display font can run the gamut from mild to macabre.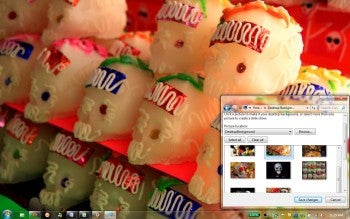 Windows 7 users can get into the spirit with PCWorld's seasonal themepacks. Our Happy Halloween Windows 7 Theme includes Autumn Harbinger, Zombo-o-Lanterns, and three more images from artists in the DeviantART community, all set to creepy sounds. If you want a theme you can use a little longer, hang on to your cranium and download the Day of the Dead Windows 7 Theme. Inspired by Mexican folk art, this themepack includes gloriously festive skulls and the merriest skeletons you'll ever see. Incorporating both the eerie and the cheery, these beautiful images ably bridge the gap between Halloween and Thanksgiving.