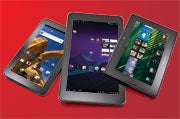 First there were laptops, and then came PDAs, smartphones, tablets, netbooks, e-readers, and a host of other portable devices. Many gadgets first used in the home migrate to work, where users expect to connect them to the company network.
Unfortunately, while PCs or Macs are relatively simple to manage and secure, mobile devices can create a nightmare for the IT administrator. Each type of device requires a different antivirus client, and management options vary from one operating system to another, as well as from carrier to carrier.
You can include network access control systems to ensure that devices have minimum security software and settings before they can connect to your network; wireless access points to keep insecure devices on a separate network; and management systems that remotely wipe lost devices or enforce encryption standards.
Critical to implementing and enforcing security standards are defining which devices you'll allow on your network, and which policies you'll enforce regarding unauthorized devices, encryption of company data, and anti-malware software.
Take the poll that applies to you for the chance to win a $25 Amazon gift certificate. You must enter your name and email address in the "Other" field of the poll in order to be eligible.
We will not use your contact information for marketing or any other purposes other than this drawing. Read more about the Business Center Tech Audit Research Survey official rules here.