At a Glance
Expert's Rating
Cons
Extra cost for Linux boot disc
Our Verdict
This full-featured partitioning utility is powerful, but charges extra for its Linux boot disc.
It's a rare user who'll need more in the way of partitioning abilities than those provided by Windows. However, if that applies to you, then Easeus Partition Master Professional Edition ($40, free demo) is one of the programs you should consider. As of the current version 9.1, it's as good as anything out there in nearly every aspect.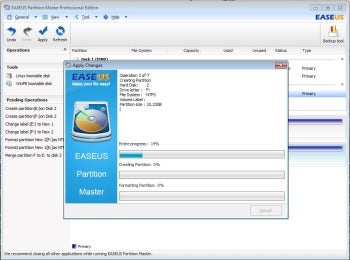 I've used Partition Master Professional many times to create, delete, format, move, rename, and resize partitions. Since my last look at version 6.6, the program has added the ability to work with dynamic disks (the software RAID solution within Windows) as well as merge contiguous partitions. All functions are selected and handily listed in a pane to the left of the main window so you can see what will transpire when you hit the Apply button. If you've ever forgotten to back out of moving a partition or other time-consuming operation with a program that doesn't list pending actions, you can really appreciate this thoughtful feature.
This latest version of Partition Master Professional also has a wizard to step you through transferring your existing system to a larger hard drive. It's basically a batch job for the existing Clone Disk function, but it saves you several steps and a lot of thought.
Partition Master Professional offers a Partition Recovery Wizard, but in my testing it didn't find all the partitions in all their incarnations. For instance, I created two 10GB partitions, then merged them into one 20GB. The recovery wizard found both, but would let me restore only the first at its merged 20GB size, not in its original 10GB. Partition recovery is a nice feature, but it's not as effective as some dedicated recovery applications such as Active @ Partition Recovery.
Easeus Partition Master Professional Edition includes a fully functional WinPE ISO boot disc image, but for some reason charges $20 for the Linux-based disc. For users with less stringent requirements, there's a free home version of Partition Master. There is also a server version for use with Microsoft's server operating systems. My only minor complaint about the program is that it doesn't support the Mac HFS or HFS+ partition types that I occasionally must deal with.
Easeus has done a very good job with Partition Master Professional, and the merge function is very handy. That said, there's stiff competition from Acronis Disk Director and Paragon Partition Manager, not to mention the free and very capable GParted Live, which is available on several Linux boot discs, including Parted Magic.
–Jon L. Jacobi