At a Glance
Expert's Rating
Pros
No more PenTile display
Great feel
Cons
Camera could be better
Static in phone calls
Our Verdict
For the price, the Atrix 2 is a good follow-up to the original, and great for anyone looking to upgrade to a dual-core phone at a reasonable cost.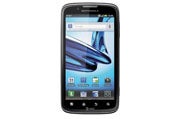 The original Motorola Atrix, announced at the beginning of this year, was one of the first dual-core phones on a 4G network (AT&T's HSPA+ network). With the introduction of the Atrix 2 ($100 with a new two-year AT&T contract as of October 31, 2011), Motorola has given the Atrix a face-lift. Although the Atrix 2 feels like a minor update to the original, it still offers a lot for that $100 price tag.
Great Design
Sporting a 4.3-inch qHD display, the Atrix 2 is slightly bigger and heavier than its predecessor. However, unlike other 4-inch and larger phones, the Atrix 2 never feels too big or too heavy in the hand.
Motorola has replaced the slick plastic backing of the original with a soft rubber that feels comfortable to hold and is meant to give you a better grip on the device. The company removed the biometric fingerprint scanner, as well; when I asked a Motorola representative about this at CTIA, the rep said that it wasn't a widely used feature. To be honest, I never used the fingerprint scanner on the first Atrix, other than when I was testing out the phone's features.
The Atrix 2 has a streamlined design, with a power button and a camera button that sit flush with the rest of the phone. Like other recent Motorola Android phones, the Atrix 2 has both a Micro-USB port and a Micro HDMI port, which you can use to plug the phone into a variety of accessories (more on that later).
One thing to note is that the 4.3-inch qHD display on the Atrix 2 is not a PenTile display (as we saw on the Droid Bionic). As a result, text and images look crisp on the Atrix 2, and you don't get the same grid effect that you see on phones using PenTile screens. In my trials, however, its colors (particularly bright hues) were not all that vibrant. Yellows often came out greenish, and orange-tinted objects sometimes looked like a dirty basketball.
In Video: The Motorola Atrix Gets a Face-Lift
Performance
Like its predecessor, the Motorola Atrix 2 comes with a 1GHz dual-core processor and 1GB of dual-channel RAM, making for better memory management when it comes to running apps. In my hands-on tests, the Atrix 2 did a stellar job of handling games such as Minecraft: Pocket Edition, and the phone never got hot while jumping through multiple apps. The Atrix 2 did have a few hiccups, though: Exiting out of YouTube while a video was still playing would cause the home screen to flash for a few seconds while the app closed, and occasionally the phone would refuse to update an app from the Android Market. A quick reboot easily solved both issues, but they were annoying nonetheless.
Call quality on the Atrix 2 was mediocre at best. The people I called claimed that I came through clear, but I noticed a considerable amount of static on my end. This problem occurred even when I was in an area with full bars, though it didn't seem to be any worse in areas with poor reception.
Data speeds were consistent with what we have seen from AT&T's HSPA+ network: Apps downloaded and installed in less than a minute, and Web content loaded without a hitch. Unfortunately, streaming high-def video over 4G didn't go as smoothly as I thought it would. Videos on YouTube took a considerable amount of time to buffer, and the TV show I played in the Netflix app was full of digital artifacts. If you plan to stream HD content onto the Atrix 2, I recommend waiting until you're on Wi-Fi.
The Atrix 2 has decent battery life, and in my unofficial tests it survived an entire day on a single charge. Power users might still want to bring a charger along, but light to medium users should be okay.
Software
Like most Android phones these days, the Atrix 2 ships with Gingerbread (2.3.5). The Atrix 2 runs a toned-down version of Motoblur, similar to the one we saw on the Droid Bionic. In this version you still get widgets for your social networks and contacts, but they aren't as garish as those that appeared on the original Atrix back in February.
AT&T has preinstalled a few of its apps on the Atrix 2, but you can uninstall most of them. The only app that I wasn't able to remove was the AT&T Music Store, though I personally didn't mind it very much. This is a departure from most Android phones, which usually don't allow you to remove any of the apps that the carrier or manufacturer has preloaded.
Webtop and Lapdock
Like the original Atrix, the Atrix 2 ships alongside a new lapdock that takes advantage of Motorola's Webtop software. The new lapdock (which retails for $200) is compatible with both the Atrix 2 and the Droid Bionic (on Verizon), but it doesn't work with the original Atrix. Offering a 10.1-inch display, this lapdock is slightly smaller than the model that launched with the Atrix, even though it looks slightly chunkier.
Plugging the Atrix 2 into the dock automatically launches the Webtop software, which gives you access to a full-featured Firefox browser as well as the apps stored on your phone. The Webtop software is largely unchanged from previous versions (with the exception of an updated Firefox), and it still feels clunky for basic tasks such as typing up a document. Speaking of typing, the smaller lapdock may have better keys than the original, but the keyboard layout is extremely cramped. Hitting multiple keys at once is all too easy, and the touchpad is as horrendous as ever. Although I like what Motorola is going for with its lapdocks, I think they need a bit more work (particularly on their keyboards and touchpads) before they'll begin to catch on.
Camera and Media
The Motorola Atrix 2 comes equipped with a rear-facing 8-megapixel camera and a front-facing VGA camera for video chatting (or taking self-portraits). Photos that I took with the rear camera were sharp; colors came out somewhat muted, however, and images turned grainy at the slightest change of light. The dual-LED flash can completely wash out images, so use it sparingly.
The 1080p videos I shot with the phone looked great on a larger screen, but seemed to have a minor focus problem with subjects in motion. Still, the Atrix 2 offers a relatively decent HD video camera, and Motoblur makes it easy to share videos with various social networks.
Thanks to the larger screen on the Atrix 2, the phone is great for watching video. As I mentioned earlier, though, streaming HD videos over 4G is something you won't want to do often. Audio is nothing special, but it's loud enough that you can listen to music without having to use headphones.
Bottom Line
For $100, it's hard to say no to the Atrix 2. With a dual-core processor and 4G speeds, the Atrix 2 is great for people who want a high-end phone, but don't want to pay a high-end price. Although putting down the extra dough for the lapdock might not be a worthwhile investment, the Atrix 2 is definitely a solid device and a great starter phone for anyone new to Android on AT&T. Overall, the Atrix 2 is another great entry into Motorola's Android lineup.