Google revamped its Google+ Android app Monday sprucing up the social network's mobile front door with a cleaner interface, more functions, and a promise of improved battery life. The Android app (now Version 2.1) is available for download at Android Market.
Google's Ben Eidelson announced the update on his Google+ account, noting that the app's developers worked closely with the Android 4.0 (Ice Cream Sandwich) team. "So you'll see the same attention to beauty and simplicity in our new design," he writes.
Along with a de-cluttered interface the app features bigger photos in Google+'s image gallery, which now more closely resemble Microsoft's Metro UI with big tiles filling up the screen.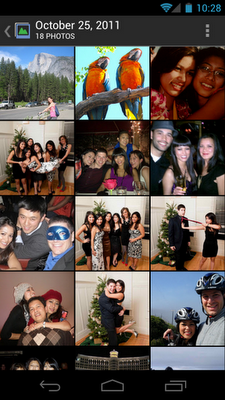 In your Circles you can now see a preview of who is in each circle with a lineup of their photos. The posting and hangout screens also received a refresh and new controls, while profiles have been changed to be more navigable and look a little slicker.
Another stand-out improvement includes "battery life improvements." It's unclear what exactly Google means by this. It begs the question did the previous version of Google+'s Android app have a power consumption problem? It could also indicate the Google+ app now uses less power than similar apps. We are still waiting to hear back from Google on its power saving claims.
Google's release notes document all that's new in the latest version:
Completely new app and new visual design
Battery life improvements
Navigation and performance improvements
Significant improvements to notifications
Brand new posting UI
Several bug fixes
Support for Google Apps users
Ability to sign out
Add people to a circle from circle profiles
The app is free to download and should work for anyone running Android 2.2 (Froyo) or higher.
Follow Eric on Twitter, and at ericmack.org. Follow PC World on Twitter, too.