Hewlett Packard's webOS-based TouchPad tablet is back from the dead again and hitting Best Buy store shelves this week. Starting Tuesday on BestBuy.com you can pick up the 32GB version of the TouchPad for $150 with the purchase of a new HP or Compaq PC. Alternatively, you can pick up the webOS tablet alone for $600. The tablet will be available at Best Buy retail locations starting Friday. You can find complete details on Best Buy's TouchPad deal page.
HP netbooks do not appear to qualify for the TouchPad offer; you can find Best Buy's list of qualifying PCs here.
Best Buy's top HP PC bargain is a Compaq desktop computer for $300 with 2GB RAM, 500GB HDD, 1.65 GHz AMD E processor, six USB 2.0 ports, and Windows Home 7 Premium (64-bit). Add to that the $150 price tag for the TouchPad and you end up with a boring tower PC and a webOS-based tablet with almost no future for about $450. That's $50 less than the $500 16GB iPad 2, a tablet that most certainly has a future and a massive catalog of third-party apps.
Best Buy says the TouchPads are in limited supply and will be sold on a first-come, first-serve basis. "And when they're gone, they're gone," the retailer warns on its FAQ page. HP recently announced on a company blog that its online inventory of TouchPad devices was depleted. That means Best Buy's current deal may be the final major sales push for HP's doomed tablet.
Why?
Considering that HP discontinued the TouchPad in August and reports say HP's webOS development team may soon be shut down, it would be surprising if Best Buy can sell its entire TouchPad inventory. So keep your eye on the big box retailer in case it offers the TouchPad at fire sale prices once again –$150 with no strings attached sounds about right.
But don't think you'll be able to get away with buying a cheap PC and then return it without the TouchPad to get a $150 deal on the device. Best Buy says it will charge you another $450 for the TouchPad if you don't return the tablet with your new PC.
webOS Future Unclear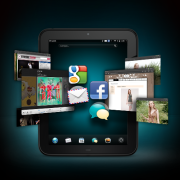 HP in August said it planned to "discontinue operations for webOS devices" and was considering getting out of the PC manufacturing business entirely. Shortly thereafter, HP sparked a nationwide fire sale at big box retailers after offering the 16GB TouchPad for $99 on HP.com.
In late October, HP said it would not spin off its PC business, but has yet to decide the fate of its webOS business. "We're going to make a decision about the long-term future of webOS within HP over the next couple of months," chief executive Meg Whitman said at the time. Whitman in September replaced Leo Apotheker as CEO following reports that HP's board was growing dissatisfied with Apotheker's plans to spin off the company's PC operations.
Whitman's comments may sound like there is some hope that webOS could be resurrected at HP, but the newly minted CEO was referring specifically to the future of webOS software, not hardware. Buyers looking to get a TouchPad this week would be wise to assume HP will not relaunch its webOS devices.
But a TouchPad could come in handy for tech saavy users looking to play around with some respectable tablet hardware. Hackers are working on a way to port Android to TouchPad hardware, and Liliputing explains how you can put Ubuntu Linux on the TouchPad. Finally, HP is reportedly testing out Windows 8 on TouchPad devices, but it's not clear if HP and Microsoft would make it easy for current TouchPad owners to load the upcoming OS on their tablets.
HP's 32GB TouchPad features a 9.7-inch screen, dual-core 1.2 GHz processor, 1 GB RAM, 1.3 megapixel webcam, 1 USB 2.0 port, 32 GB storage, Wi-Fi connectivity and webOS 3.0 software.
Connect with Ian Paul (@ianpaul) and Today@PCWorldon Twitter for the latest tech news and analysis.