An upstart company named Republic Wireless will reportedly offer unlimited talk, text and 3G data for $19 a month with no contracts and no termination fees starting next week.
Republic is expected to roll out its "new kind of wireless network," a hybrid wireless service similar to Unlicensed Mobile Access services offered by some carriers like T-Mobile, according to GigaOM. The service uses WiFi by default, but when it can't make a WiFi connection, it falls back to a cellular network. Switching is automatic and seamless. Your connection status, however, is clearly indicated on your handset's display.
A number of carriers offer handsets that support Unlicensed Mobile Access services. Republic, a division of Broadband.com, claims its service is being built from scratch, so customers will have to buy a custom handset running a version of Google's Android operating system. The company hasn't announced to handset or its selling price.
Since carriers usually discount phone prices based on two-year contracts, it will be interesting to see what kind of price Republic will offer with its no-contract model.
The primary fallback wireless carrier for Republic's service will be Sprint, which has a national network.
Data use on the service will truly be unlimited — not the "unlimited" service with 5 GB caps offered by some carriers, according to GigaOM.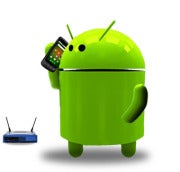 Phones using Unlicensed Mobile Access networks began appearing in 2007. AT&T and Cincinnati Bell were among the early adopters. The networks, along with femtocells, were introduced to address the problems many households have getting good cellphone reception indoors.
Femtocells are small cellular base stations that use cellular technology to communicate with a handset but route their traffic to a fixed broadband connection, such as a WiFi network. Unlicensed Mobile Access services require that you to be locked into a special phone that supports the technology — a drawback that some people believe has slowed its adoption – but femtocells can be used by any cellphone.
Republic thinks its service will be attractive enough to persuade consumers to sacrifice choice for big service rewards. For the many mobile users without a smartphone, it could be right.
Follow freelance technology writer John P. Mello Jr. and Today@PCWorld on Twitter.