For free drive imaging, you can hardly beat Macrium Reflect Free Edition–as long as you don't use dynamic (Windows software RAID) or GPT (Globally Unique IDentifier Partition Table) disks. Most users use basic and MBR disks, so Reflect Free Edition should do nicely where Windows won't. Drive imaging means making a sector by sector copy of the data on your drive or partition and storing it in a single file.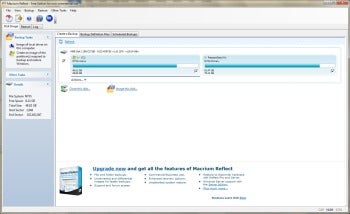 Version 5 of the free Reflect adds some tricks to the previous version's arsenal. It now clones disks (direct copying of data rather the imaging and restoring), there's a WinPE 3.1 boot disk, and the program will now shrink or expand partitions when you restore. This last point is handy when you're restoring to a disk with more or less capacity than the one you imaged.
The free edition of Reflect support neither dynamic disks nor GPT-based disks, both of which I have on my system. However, the program imaged my main basic/MBR boot partition just fine. The $45 pay version supports these technologies plus backup of individual files and folders. A 30-day trial of said pay version is available at the company's Web site and might be the better download for advanced users.
Though it's too limited for me and my dynamic and GPT disks, the free edition of Macrium Reflect is more than adequate for most users, and a bit more versatile than Windows 7's own imaging capabilities. The interface is a friendlier than Easeus Todo Backup, though the latter is more versatile with file-level backup as well as support for GPT and dynamic disks.
–Jon L. Jacobi