If you've poked around PCWorld in recent weeks, you've learned how to download and install Windows 8 on a new hard-drive partition and how to install Windows 8 in a virtual machine. Today, let's talk about one of my favorite approaches for installing Windows 8, well, anywhere: by way of a flash drive.
See, when you download something like the Windows 8 Developer Preview (which anybody can check out, not just developers), you're left with an ISO file that must be burned to a DVD before you can actually install it. Or must it?
The Windows 7 USB/DVD Download Tool lets you copy that ISO file to a flash drive, then use that drive to install Windows. And don't let the name fool you: although the 1MB utility says it's for Windows 7, it works like a charm with Windows 8. (Also notwithstanding its name, there's no real downloading involved.)
For this task you'll need a flash drive with at least 8GB of available storage. The utility will necessarily erase everything on the drive as part of the setup process, so make sure you've offloaded any important data. You'll also need to have downloaded the Windows 8 Developer Preview if you haven't already. I recommend the x64 version without the developer tools, though you may want to choose the x86 version if you're planning to install it on an older PC with limited RAM (i.e. 3GB or less).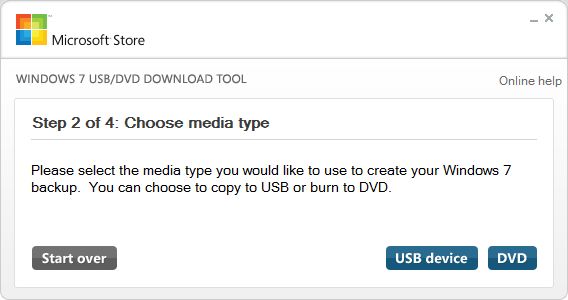 Once you run the utility, it's a simple four-step process to select the ISO file, wipe the USB drive, make it bootable, and load Windows 8. So simple, in fact, that I'm not going to reiterate the steps here. But allow 10-20 minutes for the job to finish.
When you're done, you can "safely eject" the drive, then pop it into whatever PC is going to be your Windows 8 guinea pig. (If you have trouble booting from the drive, consult your manual; you may need to tweak the BIOS settings.)
I'm sorry to say you can't actually run Windows 8 from the flash drive like you can some versions of Linux; you'll have to go as far as to install it. But it'll be a lot faster going with the flash drive than it would be with a DVD. Plus, you can load it on a netbook, ultrabook, or any other system that lacks an optical drive.
Three Surprising Things About Hard Drive Defragging
Back in the bad old days of computing, hard-drive defragmentation was a big deal. You needed a quality third-party "defragger," and you needed to run it regularly—at least once a month—to ensure optimal system performance.
Times have changed. Although computer files still get split into fragments and scattered across your hard drive's platters, the computers and drives themselves are so much faster now that fragmentation isn't the same performance-wrecking problem it once was.
What's more, if you're a Windows 7 user, you really shouldn't have to worry about fragmentation at all. Check out these three important facts about hard drive defragging:
In Windows 7, the built-in Disk Defragmenter utility runs automatically at scheduled times, usually once per week. This happens by default, so chances are good your hard drive is already defragged. And by most accounts, the utility compares favorably with third-party alternatives, so don't spend money on another defragger unless you have very specific reasons for doing so.
You don't necessarily have to leave your computer on overnight. If Disk Defragmenter isn't able to run at, say, 1 a.m. Wednesday, it will kick in the next time your computer is idle.
You should never defragment a solid-state drive (SSD). Doing so can shorten its lifespan. In fact, whether you purchased a laptop with an SSD installed or upgraded your laptop with one, be sure to disable scheduled defragmentation in Windows 7. Click Start, type disk, and then click Disk Defragmenter. Click Configure schedule to disable the feature.
By the way, if you have an external hard drive, one that's not always connected to your PC, it may not get the chance to benefit from Windows' scheduled defragging. Therefore, you should run Disk Defragmenter on it manually every month or so.
For more on the subject, read Lincoln Spector's "Defragging: How, Why and Whether."
The Fast Way to Launch Programs in Windows 7
People who migrate to Windows 7 from Windows XP often overlook one of the former's best features: the keyboard-friendly Start menu. Specifically, you can run any installed program with just a few keystrokes, no third-party launcher required.
There are, of course, several ways to run a program. You can minimize all open windows, find the program's icon on your desktop, and double-click it. Or you can click Start and navigate the All Programs menu until you find what you're after.
Both approaches are a bit time-consuming, and both require you to reach for the mouse. As a keyboard-shortcut junkie, I prefer the speed and ease of keeping my fingers on my keys.
All I have to do is press the Windows key, type the first three or four letters of the program I want to run, then press Enter when it appears. For example, I can type itu for iTunes, chr for Google Chrome, exc for Excel, or out for Outlook.
Very rarely will I have to go beyond three letters. And the only time I might need to reach for the mouse is for something like exp, which makes both Internet Explorer and Windows Explorer appear in the menu. (Actually, typing int solves that problem.)
This may only save you a few seconds here and there, but I think once you get in the habit of running programs this way, you won't go back to reaching for the mouse. It's arguably the fastest and easiest method to load an app–and I find it to be the least disruptive of my workflow.
If you've got a hassle that needs solving, send it my way. I can't promise a response, but I'll definitely read every e-mail I get–and do my best to address at least some of them in the PCWorld Hassle-Free PC blog. My 411: hasslefree@pcworld.com. You can also sign up to have the Hassle-Free PC newsletter e-mailed to you each week.