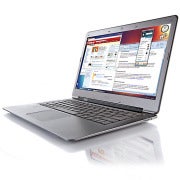 Every day until the end of the year, Acer is giving away an Acer Aspire S3 Ultrabook to one Facebook fan.
The Aspire S3 is the most affordable Ultrabook introduced so far, but winning one will save you $899 on this 13.3-inch ultrathin laptop that weighs under 3 pounds.
To enter the contest, you need to "Like" Acer's Acer-a-Day Giveaway on Facebook and enter in your information. You can enter the sweepstakes every day, for a total of 59 chances to snag a free Ultrabook between now and December 31st.
Though your chances of winning are slim–Acer already has 233,867 Facebook fans–all it costs to enter is one tiny Facebook "Like" (and everything that comes with that, such as Acer updates in your Facebook feeds). Hey, you never know.
Follow Melanie Pinola (@melaniepinola) and Today@PCWorld on Twitter