At a Glance
Expert's Rating
Pros
Easy to use
Boot disk
Imaging and file backup
Our Verdict
Back up entire partitions, restore partitions and individual files for free with this highly useful backup program from Easeus.
A lot has changed in Easeus ToDo Backup Free since I last reviewed it as version 1.1. Then, it was already the most competent free backup program in existence with both file backup and imaging of partitions, but it lacked niceties such as scheduled scans. Version 3.0 has addressed every complaint I had and added tons of functionality. It now schedules and performs incremental and differential backups, images your system partition from within Windows, and no longer splits files unless you want it to.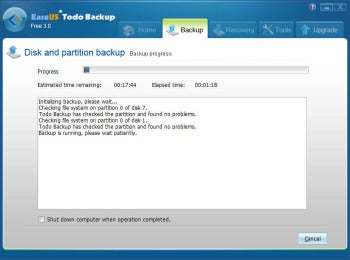 Easeus Todo Backup Free is largely easy to use and integrates well with Windows. Simply double-click any ToDo backup file, and it opens as if it were a folder. This allows you to easily browse and recover individual files and folders using Windows Explorer. There's a full integrated restore function as well if you prefer that method.
One minor issue with ToDo Backup Free is that it doesn't do plain file backup, i.e. simply copy files to a backup location. Plain file backups require no software other than the operating system to browse or restore. Another minor issue is the file selection dialog, which doesn't allow you to drill down into folders in the right side pane or expand for easier viewing. This makes it more difficult to select files than it should be. It would also be nice to have a specific jobs page to run and create jobs rather than only the wizard where you must select incremental or differential to run an existing job.
If scheduled imaging and file backup weren't enough, ToDo Backup Free also comes with a Linux-based boot recovery CD so you can recover your system if disaster strikes. You may also create a WinPE boot disk, however, that involves downloading the free Windows Automated Installation Kit (AIK) for Windows 7. For $39, ToDo Backup Workstation adds the ability to create system snapshot images, as well as a full WinPE boot disk.
I called Easeus ToDo Backup Free 1.0 the best free backup program in existence. Despite some exceedingly minor usability issues, that's still true. It will be a rare user who needs more than it provides.
–Jon L. Jacobi