Despite explosive growth in smartphone usage, many businesses still have a website that isn't optimized to fit on a small mobile screen. If a potential customer can't navigate your store's site from a handset, there's a good chance they'll walk over to the shop of your competitor that has a mobile-ready site.
Google's new GoMo tool is aimed at ensuring that business websites are optimized for smartphone users. Since Google is also behind Android and Google Mobile Ads, it has a vested interest here. This doesn't make the site less useful, but it does make GoMo a lot like the mall Santa–a free experience that encourages you to shop in the immediate area.
Start With the Gomo Meter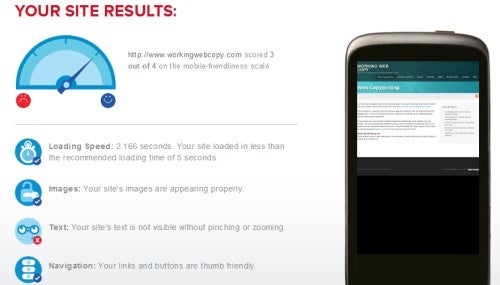 The Gomo Meter tells you if your website is optimized for mobile devices. If not, it will give you a free, customized report on what you need to do. The Gomo Meter takes four factors into account:
Loading Speed should be under 5 seconds.
Site images appear properly.
Site text is visible without pinching or zooming.
Navigation links and buttons are thumb-friendly
For instance, for my business, I have to make my website's text visible without requiring pinching or zooming. While the report doesn't tell you exactly how to fix an issue, you can hand it to a Web design company to take very specific action.
End With Best Practices
If you really want to streamline your site for mobile, GoMo offers 10 best practices. Beyond the top four on the Gomo Meter above I'd rate "make it local" as the most important. Including your address and phone number on your home page used to be considered a bad idea; it's now necessary for mobile optimization. You'll also want to include a map for navigation and a GPS locator if your budget allows.
Build Your Mobile Site
In the past, Google hasn't suggested certain vendors for search engine optimization (SEO) or website publishing. They've veered sharply away from that with GoMo, suggesting several vendors that you can narrow down by criteria like budget and time frame.
Google Mobile Ads
Surprisingly, Google isn't heavily pushing its Google Mobile Ads within GoMo's website. While it's a given the suggested vendors will push mobile ads as a viable and budget-friendly way to get mobile viewers, its slug for Google Mobile Ads is buried under vendor suggestions on the "Build Your Site" page. That said, Google has expanded its mobile options recently, including enabling users to track who calls them from a Mobile Ad. Why Should You GoMo?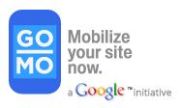 The businesses that should be most concerned about optimizing for mobile are those with a physical presence, like restaurants, clothing stores, or specialty food stores. The more optimized your business is for local search, the more likely you are to capture smartphone walk-in customers.
It's less important to optimize for local smartphone users if your business offers purely online offerings. While it's always smart to optimize for mobile since more users are going there, if you're looking at significant spending to get your site there make sure first that you may profit from it.
Many of Google's optimization suggestions will also help your SEO efforts. Google announced last year that loading and overall site speed was a factor in its search algorithm rankings, and an improved user experience with better navigation definitely won't hurt most websites. Many of the changes Google suggests won't cost a lot to ask your Web design team to do.
Angela West dreams of opening a Fallout-themed pub featuring wait staff with Pip-Boys. She's written for big insurance companies, small wildlife control businesses, gourmet food chains, and more. Follow her on Twitter at @angelawest, on Google+, and on Facebook.