HP today introduced its follow-on to last year's Windows 7 tablet, the HP Slate 500. The Slate 2 is an evolutionary refresh, with virtually the same physical design and some updated internals. Already, the company has done more to promote the Slate 2 than it did the Slate 500; that model flew under the radar last year thanks to its positioning as an enterprise tablet priced at $799. The Slate 2's price drops to a starting price of $699, and the company joins other recent Windows 7 tablet releases from Fujitsu, Dell, Motion, Samsung, and Viewsonic.
Like many of those vendors in that list, HP continues to squarely target business users with its Slate 2. This update adds a Trusted Platform Module (TPM) embedded security chip 1.2 to provide an extra layer of protection for the data stored on the tablet. And the company has two business-friendly accessories—the HP Slate Bluetooth Keyboard and Case, $79; the case adds significant thickness to the tablet, but it also provides a convenient, all-in-one carry-case for toting the Slate about. HP also showed its Retail Mobile Point of Sale Case, which has a credit card magnetic stripe reader and a barcode scanner built-in.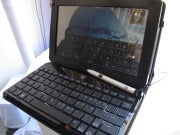 The Slate 2 has few other changes over its predecessor. Cosmetically, it looks almost the same, save for the now-plainer design on the back. The dimensions are practically the same, though the Slate 2 is fractionally thicker and heavier, at 5.9 by 9.21 by 0.61 inches, and starting at 1.52 pounds. It has an 8.9 inch some improvements display with 1024 by 600 pixel resolution and N-trig capacitive touch and digitizer display for use with the included pen input.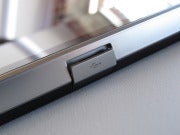 Among the internals, the Slate 2 bumps the processor to a 1.5-GHz Intel Atom Z670, now offers storage options of 32GB and 64GB mSATA flash, and provides buyers the choice of Windows 7 Home Premium in addition to Windows 7 Professional and Windows Embedded Standard 7. The 2-cell battery should last nearly triple that of the Slate 500– up to six hours—though HP didn't say anything about how the company improved battery life.
When I handled the tablet, it felt fairly well-proportioned in-hand, even though it is thicker than other tablets I've held. The screen felt responsive in short trials, and the new addition of the Swype keyboard—a first for a Windows tablet—was a welcomed alternative to Microsoft's own, less-conducive on-screen keyboard.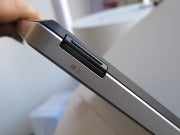 I could touch-type on the keyboard, something that I find more difficult on Windows' own keyboard. I also liked how HP integrates an SDHC card slot, SIM card slot, and USB 2.0 port, plus physical shortcut buttons for home, calling up the keyboard, and calling up the task manager.
HP ships the Slate 2 worldwide later this month.