Amazon Prime subscribers can now read more than 5,000 Kindle e-book titles for free thanks to a new service called Kindle Owners' Lending Library, but only if you own a Kindle device. The new Prime feature lets you borrow one book per month and read it on your Kindle device for as long as you want with no specific due date when your access to the book expires. Amazon lending library books cannot be read using Amazon's smartphone apps.
The new library adds even more value to Prime, the online retailer's membership program that offers free and reduced shipping rates on all your Amazon orders for one year. The $79 per year program not only gives you free shipping and a free library of books, but also access to a free video streaming service with a catalog of more than 10,000 movies and television episodes.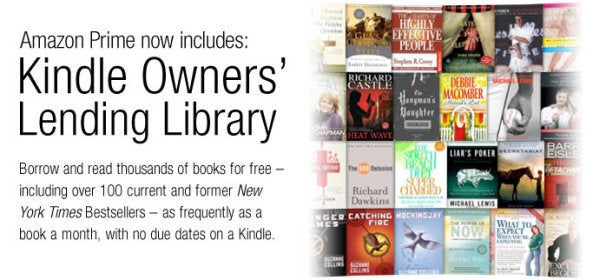 Rumors of Amazon's book borrowing feature surfaced in September, billed by The Wall Street Journal as a Netflix-like service for digital books. At the time, publishers were reportedly hesitant to sign on to Amazon's plan, worrying the effort could devalue books in the eyes of consumers.
Amazon said it paid a fixed fee to publishers for most of the titles in its new library. For some of the books, however, Amazon will purchase the title from the publisher at wholesale rates whenever a Prime member borrows the book. The idea is to offer publishers a "no-risk trial" to show the new lending library will actually help them.
"We expect three immediate results [from the Kindle Owners' Lending Library]," said Russ Grandinetti, Amazon's vice president of Kindle content. "Kindle owners will read even more, publisher revenues will grow, and authors will see larger royalty checks."
But if publishers already have cold feet, you have to wonder how long Amazon's new lending library will last.
Nevertheless, you can borrow books from Amazon right now, so here's what you need to know about borrowing books with your Kindle device.
On which devices can I read borrowed books?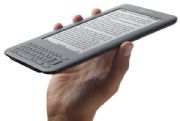 Amazon will let you read the books on the Kindle, Kindle Touch, Kindle Keyboard and Kindle Fire. You can read the book on all physical Kindle devices connected to your Amazon account.
What about Kindle apps for smartphones and desktops?
The new lending library does not work with smartphone or PC apps such as Kindle for iOS or Kindle for PC.
How many books are being offered?
There are more than 5,000 titles available to borrow, including 100 books that are current and former New York Times bestsellers. Amazon did not explain how many current bestsellers are part of that 100.
What's the selection like?
Amazon isn't showing its complete lending library selection online, but says lending titles include popular titles such as "Moneyball: The Art of Winning an Unfair Game," "The Big Short" and "Liars' Poker" by Michael Lewis, "The 7 Habits of Highly Effective People" by Stephen R. Covey, and "The Last Lecture" by Randy Pausch.
How many books can I borrow at once?
You can only borrow one book per calendar month and you can only have one book out at any given time. Amazon also said it isn't allowing "rollover" credits. So if you don't borrow a book in November you won't get to borrow two in December.
How do I borrow a book?

You can borrow books by navigating on your Kindle device to the Kindle Store and selecting the section titled "Kindle Owners' Lending Library." Books that are available to be borrowed will also appear when you are browsing the Kindle Store. Any book that has a Prime badge next to it can be borrowed.
How do I 'return' books?
Once your calendar month is up and you can borrow another book, you will be prompted to "return" the old book once you make a new borrowing selection. You can also return books online via your Manage Your Kindle page on Amazon's site.
Do highlights, notes and bookmarks work?
Yes. You can add notes, highlights and bookmarks to Kindle library books just like you can with regular Kindle books. The notes will also be saved to your account so that if you borrow the same book again or purchase your own copy, your original notes will be automatically synced to you Kindle.
What if I cancel my Prime membership?
You will lose access to any borrowed books on your Kindle if you cancel your Prime membership.
Amazon's new Kindle Owners' Lending Library follows an announcement in September that Kindle owners would be able to borrow e-books from 11,000 public and school libraries in the United States such as the New York and Boston Public Libraries.
Connect with Ian Paul (@ianpaul ) and Today@PCWorld on Twitter for the latest tech news and analysis.