There's one main reason why you'd want to grant your desktop PC access to the wireless world, and it's a biggie: You're sick of stringing ugly Ethernet cables around your house. But you also might not have any Ethernet cable on-hand to make a wired connection — or worse, no room left on your router to plug in another cord.
I've previously covered a couple of fancier ways to bridge the gap between your wired desktop system and your wireless Internet signal. But these have all been hybrid methods that often still require a cord of some sort — as in the case when you connect your system to a wireless bridge.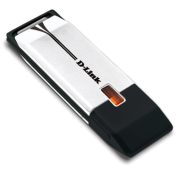 A desktop-based wireless adapter grants you access to the same kind of wireless magic that's otherwise built into a conventional laptop or Smartphone. And just like some of the laptop adapters I covered last week, desktop wireless adapters also come in two different formats: USB or PCI.
So which one do you pick?
Choosing is actually quite simple: A USB wireless adapter trades a bit of overall power for lots of convenience. It's just as easy to operate as a flash drive. Plug your adapter into a USB port on a system that needs wireless connectivity, wait for Windows to install the appropriate drivers (or install them yourself), and — poof — up pops a wireless signal. Connect away.
And don't let the small size of typical USB wireless adapters fool you. Their connective capabilities run all the way up to dual band Wireless N networking (like D-Link's Xtreme N® Dual Band USB Adapter (DWA-160)). But here's the caveat: A USB adapter might not be able to deliver as strong of a connection over as long of a range as a PCI-based wireless adapter can.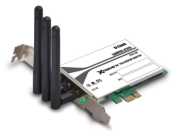 Why? Most PCI-based wireless adapters come with multiple large antennas that stick straight out of the rear of your system and help maximize your throughput in a Wireless N environment thanks to a transmission technique called spatial multiplexing. Since you have to install a PCI adapter right onto your system's motherboard, you'll discover that it's less convenient than a USB adapter if you ever need to move it to another system. But a PCI-based adapter, like the Xtreme N PCI Express Desktop Adapter (DWA-556) is an excellent choice if you want top-notch wireless power for a single desktop PC.
There are other ways to eek even better performance from PCI-based adapters. Over the coming weeks, I'm going to run a few tests on my own wireless desktop setup and I'll report back in a subsequent post with some must-do tweaks to achieve maximum wireless performance.
If you can't wait until then to decide on a USB vs. PCI adapter, I recommend you choose based on what's most important to you between convenience and raw power. If it's convenience, go USB. If it's performance, PCI is probably your best bet. Check back here later for my recommendations on how to tweak your setup to avoid wireless interference.