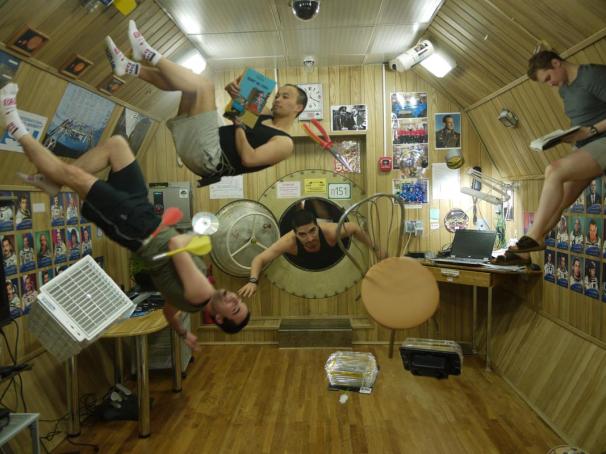 After breaking a world record for isolation as part of their simulated "trip" to Mars and back, the Mars500 crew has stepped out of their mock interplanetary spacecraft for the first time in 520 days. The isolation experiment which began on June 3, 2010 and ended November 4, 2011 is a revolutionary step toward a "real" manned missions to Mars.
The Mars500 experiment, conducted by the European Space Agency (ESA) at the Institute of Biomedical Problems in Moscow, is a psychological and physical study about how long periods of isolation affects humans. Long-term isolation experiments are important because without them we won't know if people will be able to survive longterm space travel…or if they'll go completely insane.
The Mars500 experiment took place for 520 days–the approximate time to include, "a long flight to Mars, insertion into orbit around the planet, landing, surface exploration, return to orbit, a monotonous return flight and arrival at Earth," as the ESA puts it. The crew also performed more than 100 experiments just like what would happen in a real mission to Mars, except these experiments were all related to the "problems of long-duration missions in deep space," according to the ESA.
While on board, the Mars500 crew–all men in this case–had access to only 550 cubic meters (around 19,400 cubic feet) of area and experienced communication delays between 8 and 736 seconds. This experiment certainly tested isolation to the extremes of all sorts, with only one exception–there was gravity, which obviously would not be the case in deep space.
At 10:00 GMT, the hatch to the "spacecraft" was opened and the crew of all volunteers–three Russians, one Chinese, and two Europeans–walked out to meet family, friends, and doctors. Now that the experiment is complete, the crew will undergo medical and psychological evaluations. No one is sure what will happen next–an actual mission to Mars? No one knows. But the experiment will prove to be vital for future long-term space travel.
Follow James Mulroy on Twitter and on StumbleUpon to get the latest in microbe, dinosaur, and death ray news.
Like this? You might also enjoy…
Get your GeekTech on: Twitter – Facebook – RSS | Tip us off