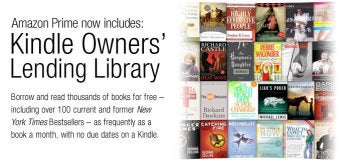 Amazon is tempting Kindle owners to sign up for its Prime service with free e-books, and if you are wondering if there are any good ones to read you can now peruse a list right from your PC.
The Internet retailer's complete collection of Prime Lending Library books for Kindle devices is online and accessible from any Web browser.
When Amazon launched its new lending library earlier this week, it did not point to its complete library of books available to be borrowed. But thanks to a tweet from Publishers Marketplace and first reported by CNET, Prime members and prospective Prime members can see what's available to them.
Amazon's library collection includes more than 5300 Kindle editions that Prime members can download and read for free. Despite the complete listing online, however, you may not be able to view the entire catalog as some users say they are getting cut off after viewing about 1000 books.
There are some definite must-reads on the list. A quick rundown includes Moneyball by Michael Lewis, Gun, Germs & Steel by Jared Diamond, and Fast Food Nation by Eric Schlosser. For the Apple-obsessed, there's even The Business Wisdom of Steve Jobs by Alan Ken Thomas.
But those hoping for something about Jobs that's a little more high profile, such as the authorized biography of the late Apple founder by Walter Isaacson, are out of luck. However, the hardcover edition of Isaacson's book is eligible for free shipping with a Prime membership.
Prime is an annual $79 membership that offers you unlimited free two-day shipping and discounts on one-day shipping on all your Amazon orders for a year. With Prime you also get a library of more than 10,000 movies and TV shows you can stream online for free.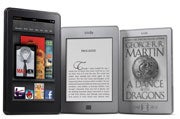 Amazon's Kindle Owners' Lending Library offers Prime members the ability to read one e-book per calendar month for free from its current selection of titles. Amazon's lending library only lets you read borrowed e-books on Kindle devices such as the basic Kindle, Kindle Touch, Kindle Touch 3G, Kindle Keyboard and the Kindle Fire (available November 15).
Smartphone apps for Android and iOS, as well as Kindle apps for PC and Mac, are not compatible with Amazon's new lending library for Prime members.
Connect with Ian Paul (@ianpaul ) and Today@PCWorld on Twitter for the latest tech news and analysis.