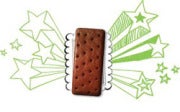 Owners of HTC phones will have to wait until early 2012 for their device's mobile OS to be upgraded to Google's Android Ice Cream Sandwich 4.0. In a post to its Facebook page, HTC wrote not just phones with fast multi-core microprocessor chip architectures would get Android 4.0, but also HTC phones with fast single-core processors, such as the HTC Sensation XL.
The HTC Sensation, Sensation XL and Sensation XE were named as the first HTC smartphones lined up for the Ice Cream Sandwich update early next year, as well as the HTC Rezound, EVO 3D, EVO Design 4G, and Amaze 4G, which will receive the update over the air "through close integration with our carrier partners," HTC says. The new HTC Vivid, going on sale this week, is also on the upgrade list.
Android 4.0 is meant to be Google's OS that bridges the smartphone and tablet gap — which is currently served by two different versions of the OS. Ice Cream Sandwich refreshes the navigation methods on Android phones by removing the need for the hardware navigation buttons, as well as a sleeve of improvements and gimmicks my colleague Armando Rodriguez discusses at length.
The first phone to run Android 4.0 will be Google's Galaxy Nexus, manufactured by Samsung. The phone is expected to go on sale later this month with Verizon, sporting a dual-core 1.2GHz processor, a huge 4.65-inch curved glass display, and NFC capabilities. Google is also working on the update for the Galaxy Nexus S, but those with a Nexus One are out of luck.
Motorola promised to upgrade the Droid Razr and Bionic, as well as its Xoom tablet to Ice Cream Sandwich, but the exact timing is unclear — some six weeks after the official release of the update from Google. LG and Sony also hinted at Android 4.0 updates for their high-end phones, but no solid details are available on that yet.
Follow Daniel Ionescu and Today @ PCWorld on Twitter