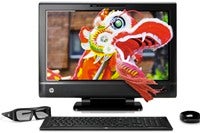 Hewlett-Packard says it's "making 3D available to the masses" with two new PC-based offerings that will begin to roll out Tuesday.
The TouchSmart 620 3D edition desktop is priced starting at $1800 and sports a 3.1 GHz Intel i5 processor, 8 GB of RAM, and 1.5 TB of storage space. The 3D display works with help from TriDef software and an AMD Radeon HD 6670 graphics card. The system lands in between beefier 3D systems from Sony and more spartan offerings from Lenovo.
A brief demo of the system in the video below shows that the TouchSmart 620 3D monitor can easily tilt until almost flat for stand-up use. Two lenses embedded in the monitor itself support creation of 3D video, which can be played back and enjoyed using active shutter technology in the accompanying glasses.
The system runs Windows 7 overlaid with HP's TouchSmart Magic Canvas, which skins up the system to provide a more tablet-like experience but can easily switch back to plain Windows.
HP is also releasing a new 3D monitor, the 2311gt, a 23-inch, $299 passive 3D screen. Both monitors are capable of 1920 by 1080 resolution, and can convert 2D to 3D via included software. HP says the 2311gt is designed to be more affordable than other 3D systems.
"It's really about making 3D available to the masses for people who haven't been able to experience 3D yet," says Pete Ellis, HP displays worldwide product manager. "You have compatibility with a greater number of graphics cards out there, you don't need the ultra high-performance PC gaming card to be able to experience great 3D."
The 2311 gt 3D monitor will be available November 8, while the TouchSmart 620 3D rolls out on November 15. Take a closer look in the demo from HP below:
Follow Eric on Twitter, and at ericmack.org. Follow PC World on Twitter, too.