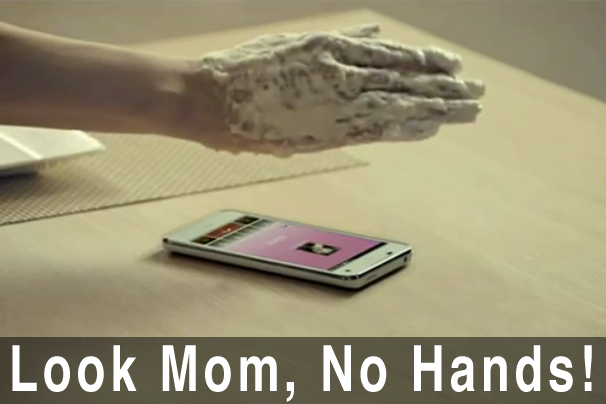 Sure, those multi-touch gestures on your smartphone are pretty slick with a quick finger gesture you can unlock your phone, answer a call, check your notifications, and so on. However, you still have to actually touch the screen, and I'm sick and tired of missing calls or waiting 20 minutes to read a text or email just because I'm trying to whip up some of my awesome homemade pizza dough and my hands are dirty.
Oh me, oh my, whatever am I to do?
If you're like me, and your phone only seems to ring when you can't bring yourself to touch it, then you'll be happy to know that there may be a solution right around the corner. It's a piece of software from eyeSight Mobile Technologies that lets you perform actions on your phone, simply by waving your arms around in front of it.
That's right, you too can perform Jedi mind tricks on your phone! Uh, sorta.
Since this technology relies solely on software, you don't need a special camera on your phone. Also, the gestures appear to be simple enough to work with the relatively low-quality front-facing cameras that come on many current smartphone. Currently, the gestures are limited to waving your hand in front of the screen and so forth, but more intricate features are likely to be offered in the future with more advanced software and hardware.
All in all it's some cool technology, and I can definitely see it coming into play in smartphone games. It will be like having a mini Kinect on your phone!
The only bad news is that, only one phone from Pantech will have this tech (according to All Things D), and as Ubergizmo notes, there's no timeframe for a US release. Check out the Pantech site for specs on the phone.
[Pantech and eyeSight via AllThingsD and Ubergizmo]