Barnes & Noble is going after Amazon's Kindle Fire with the Nook Tablet–an improved Nook Color e-reader with better specs and $50 extra on the price tag. The Nook Tablet is set to arrive on November 18 for $250, just three days after the much-anticipated Kindle Fire goes on sale for $200. Both tablets are now available for pre-orders, so before you click, check the comparison chart below.
The Kindle Fire and the Nook Tablet are similar in many ways. They both have 7-inch displays with resolutions of 1024 pixels by 600 pixels, and they both run on heavily customized versions of Android OS from Google (which means that it doesn't look anything like the stock Android you might be used to). The Kindle Fire is slightly slimmer than the Nook Tablet (Fire 0.45 inches, Nook Tablet 0.48 inches). The Nook Tablet does weigh 5 ounces less than the Fire.
On the inside though, Barnes & Noble has packed in more performance into its Nook Tablet than Amazon did with the Fire. The Nook Tablet packs 1GB or RAM, double the amount found on the Fire (512MB), as well as 16GB of on-board storage, again–double of what's found on the 8GB Kindle Fire. There's also a MicroSD card slot on the Nook Tablet, notably missing from the Fire, so you can expand the capacity of your Nook with cards up to 32GB.
Double the amount of RAM and storage alone would justify the extra $50 Barnes & Noble wants you to pay for the Nook Tablet, compared to the Kindle Fire. However, if you're planning to buy one of these instead of an iPad, you might be disappointed.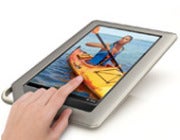 The price might be as low as half the price of one of Apple's tablets, but you won't get any cameras for video chatting (there's a microphone on the Nook Tablet for recording yourself reading books). There are no 3G capabilities so you can stay connected outside Wi-Fi areas, and the selection of third-party apps is minimal, as both Barnes & Noble and Amazon curate their own app portals.
In Video: Nook Takes on Fire
Follow Daniel Ionescu and Today @ PCWorld on Twitter