At a Glance
Expert's Rating
Pros
Interface focuses on customization and reading
Great display minimizes glare
Many apps are tailored for the 7-inch screen
Cons
Navigation is locked into portrait mode only
Gray bezel is distracting
Our Verdict
Nook Tablet excels at reading, and offers a smattering of solid streaming media services, but it lacks the flexibility of a full-featured tablet.
The $249 Barnes & Noble Nook Tablet announced Monday may look like its predecessor, the Nook Color, but that's where the comparisons stop. When I picked up the Nook Tablet, it was clear that this tablet leaps ahead of B&N's first-gen effort–because it behaved more like a tablet. That said, the Nook Tablet's main weakness is that it's not a full-featured tablet like some of its competition; it lacks features like built-in Bluetooth, stereo speakers, GPS, and front- and rear-facing cameras, most of which are common finds on tablets today.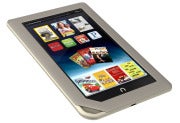 Still, the Nook Tablet's low price will make it appealing to both e-reader and tablet shoppers. In fact, it is priced low enough to potentially sway consumers who might have been considering an iPad 2, which has a larger display, but also costs twice the price. With its competitive price and beefy specs, other so-called "value" tablet makers (that includes Amazon and its Kindle Fire tablet) should be running for the hills right about now.
Impressive Specs
For starters, the beefed-up horsepower in this tablet, compared to the earlier Nook Color, really counts. The dual-core 1GHz Texas Instruments OMAP 4 CPU and 1GB of RAM made switching apps a breeze with no lag or stuttering. Movies played smoothly and stutter-free in Netflix, and the images looked gorgeous and crisp, with terrific contrast.
The display looked dazzling overall, as expected since it's the same as it was in Nook Color. Glare was minimal–a clear credit to Barnes & Noble's VividView laminated and bonded IPS display. It was a pleasure to not have a visible, annoying gap between the glass screen and the LCD beneath, as I've seen with literally the dozens of tablets I've tested before this one. I can't say glare is gone completely, but the difference is very clear when you have two devices side by side.
The tablet felt noticeably lighter than the Nook Color, even though the difference on paper–1.7 ounces–doesn't seem like so much. Still, I could feel the difference when holding the tablet in one hand, which is how I often end up holding a tablet at some point or another.
Navigating the Nook Tablet
With Nook Tablet, I liked how the Nook software evolved in keeping with the Nook Tablet's alignment into the more broad tablet universe. You can now access apps and Netflix viewing history and recommendations from the home screen, a move that's both convenient and logical, given how Nook Tablet aims to embrace its full potential from the get-go this time. Nook Tablet is optimized around reading, something that's clear from the display, and clear from how you access your books and the visual presentation of periodicals.
The new Read and Record feature in children's books was especially compelling, and worked very well when I tried it. I could create my own audio track to accompany a book, a feature I could see as being appealing for families–especially those with a loved one who travels or is far away. I hope we'll see the mic incorporated into other applications. Sadly, one of those applications will not be video chat, since B&N didn't include a front-facing camera.
Where Are the Apps?
While Nook Tablet calls itself a tablet, it still lacks many tablet features and access to the wide swath of apps on the Android Market. Apps need to come from B&N's own, growing app store. But there is some good in B&N's curated approach, though.
Through B&N's store, you'll get apps that are specifically tailored for use on a 7-inch tablet without a camera or GPS or phone, for example. In practice, this is actually a pleasant switch-up from the messy Android Market experience (hint, Google: Please fix the Market), from which I've downloaded plenty of apps onto 7-inch tablets only to have them crash and force-close on me or not stretch properly to fit the tablet's screen.
What Barnes & Noble Missed
Add in the basic features. Nook Tablet is missing Bluetooth, stereo speakers, a GPS, and front- and rear-facing cameras. Beyond the basic processing specs, those are the features that Nook Color omitted, and that Nook Tablet–now that it's actually crossing into the territory of calling itself a tablet and trying to compete with tablets–should have added.
These all are basic specs of dedicated competing tablets. Granted, some of the "value" competition lacks Google services and cameras, too, but Nook Tablet shouldn't be trying to compete with those tablets–its core specs are good enough for it to play in the big kids' sandbox, alongside Honeycomb 7-inch tablets from the likes of Samsung and Toshiba. Nook Tablet would stand up better to the competition had is added the competitive feature set.
I would have liked to see B&N step up the display's resolution. I'm totally sold on B&N's bonded and laminated VividView display's qualities, and I know B&N says it has done optimizations on top of Android to improve text rendering but, in some fonts, I could still see pixelation in the text. I prefer the smooth text rendering of higher-resolution displays, such as those offered by Toshiba's 7" Thrive and T-Mobile's SpringBoard, both of which have stepped the resolution up to 1280 by 800 pixels.
While B&N clearly missed a few opportunities to forge ahead of the pack, these omissions were trade-offs that were likely made in the name of achieving the Nook Tablet's attractive price. And attractive it is: At $249, the Nook Tablet is a veritable bargain compared with the Samsung Galaxy Tab 7 Plus (shipping now) and the Thrive 7" (shipping in December), both $399. (T-Mobile hasn't announced pricng for the SpringBoard yet).
In Video: Nook Takes on Fire
Stay tuned for our full-review of the Barnes & Noble Nook Tablet next week.