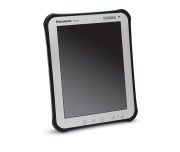 Panasonic said Monday that its 10-inch Android 3.2-powered Toughpad tablet, the Toughpad A1, will be available in the Spring of 2012. Pricing is expected to start at $1299.
That's at least a bit more availability and pricing information than Panasonic offered when it first announced it would have an Android tablet back in June of this year. And then, the company seemed to think it would launch its tablet in 2011.
The company says that the Toughpad A1 is ideal for work in extreme outdoor environments such as aviation and construction sites. In fact, Panasonic includes a 4-foot drop in the spec sheet for the A1.
The tablet will weigh 2.13 pounds, and will have a 5MP rear-facing camera, and a 2MP camera in the front. Inside, the A1 has a 1.2 GHz dual-core processor, offering 16GB of storage (with optional storage of up to 32GB), and 1GB of RAM.
Here's a Panasonic video on the Toughpad tablets:
The company says the A1 offers an enhanced level of security, including hardware and software encryption, enhanced VPN, dual factor authentication, trusted boot, and device management.
The tablet will provide a very bright, multi-touch, and daylight-viewable screen and can withstand a variety of temperatures–useful to mobile workers, such as those in the military, who spend much time outdoors and need a device to adjust well to severe weather and lighting conditions, the company says.
Panasonic also announced the 7-inch Touchpad B1 tablet, but no pricing or details were announced.