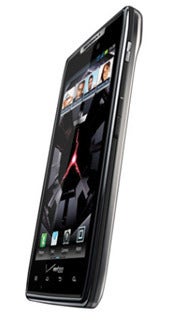 Reviewers say the Droid Razr might be Motorola's best phone yet, but they're describing its battery life as razor-thin and have a few other complaints about the Android device.
The general consensus is that Motorola's Droid Razr is a standout smartphone: it's thinner than any almost any phone on the market — an achievement considering it's a 4G LTE phone. Under the hood there's a 1.2GHz dual-core processor and 1GB of RAM, and the 4.3-inch screen has a resolution of 960 by 540 pixels. The 4G Droid Razr arrives Nov. 11 for $300 with a two-year Verizon contract, and will miss a major trick compared to its rival, the Samsung Galaxy Nexus: it won't run from the start the latest and greatest version of Android, Ice Cream Sandwich.
PCWorld's Ginny Mies gave top marks to the thin sturdy design of the Razr, but points out in her review that battery life is "sad." She was "disappointed with the fast-draining battery life," especially at "how quickly the battery ran out was still surprising, all the more so considering the big deal Motorola made over battery life conservation." The Droid Razr doesn't have a removable battery.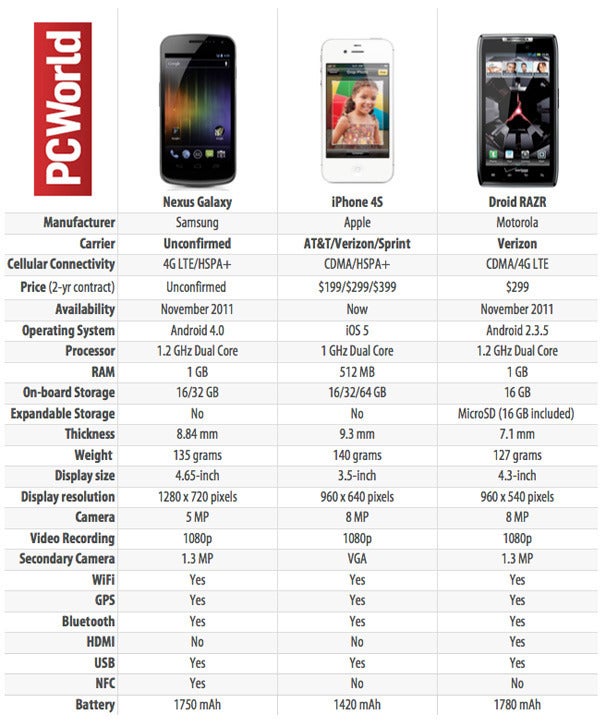 Jordan Crook at TechCrunch doesn't think "the lightweight feel lends itself well to the premium sort of experience Motorola was going for" in the Razr. He also notes that the Razr can get hot "rather quickly," and "the hotter the phone gets, the longer it takes to load up apps, or resume apps during multi-tasking."
Engadget's Terrence O'Brien had some complaints about the display of the Razr, which is "sharp, contrasty and bright enough to satisfy, but had a slight green hue that was very apparent at lower brightness settings." Brent Rose at Gizmodo also notes the Razr's screen is "not as sharp as the 720p display on the HTC Rezound or the iPhone 4S' Retina, but it certainly won't make your eyes bleed."
Nilay Patel at The Verge put the Droid Razr in context, considering "the upcoming Samsung Galaxy Nexus is nearly as thin, offers a larger 4.65-inch display with higher 720p resolution, and will ship with stock Android 4.0 as a Google-blessed device that's first to get software updates." The Galaxy Nexus is expected to ship some time by the end of November, and compared to the Droid Razr, it might be a case of "something better is coming."
Follow Daniel Ionescu and Today @ PCWorld on Twitter