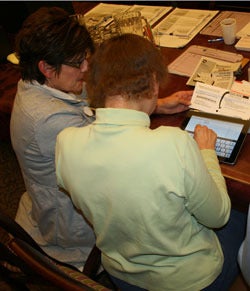 Some Oregon residents will cast their vote in a special primary election today using an iPad.
Election workers in the five counties participating in the election to replace U.S. Representative David Wu — who resigned amid a sex scandal — have been seeking out residents with disabilities who might have a hard time making it to the polls and offering to let them make their choice with Apple's tablet computer instead.
The portable system was chosen because it allows voters with limited mobility to make their choice in private, either by tapping their chosen candidate on the screen, or using an attached "sip and puff" device for those who cannot use their fingers. The completed ballot is then printed and put in an envelope for the voter to mail in or take to an official ballot box, according to an Associated Press report.
Deborah Houghton, a Washington County resident, was visited by a county voter assistance team with an iPad because she has trouble reading the fine print on ballots. She says she was able to use the device to make the print large enough to read the voter's guide and ballot for herself and vote on her own.
Voting officials say the iPad's Bluetooth capability could also be harnessed to allow voters with disabilities to connect to the voting software using their own paddles, joysticks and other assistive devices.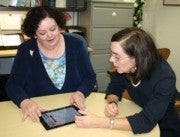 Oregon was the first state to allow statewide voting by mail, and if this pilot project — which will be continued for the special general election in Wu's former district in January — is successful, it could soon be the first to put iPads into use in statewide polling.
The iPad voting experiment actually began in 2010, because much of the state's voting equipment for people with disabilities was reaching the end of its life and the state was looking for more inexpensive replacements. Apple donated five iPads for the project, and the state developed the voting software.
So far, there's no plans to open up iPad voting to the general population. Oregon voting officials say they would need two iPads per county, or a total of at least 72, to expand the program statewide to try to reach as many voters with disabilities as possible.
Follow Eric on Twitter, and at ericmack.org. Follow PCWorld on Twitter, too.