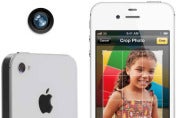 The antenna on Apple's iPhone 4S has gotten a clean bill of health, more than a year after its predecessor was plagued by a problem that came to be known as Antennagate.
"Apple's newest smartphone performed very well in our tests, and while it closely resembles the iPhone 4 in appearance, it doesn't suffer the reception problem we found in its predecessor in special tests in our labs," Consumer Reports' Mike Gikas wrote.
The iPhone 4's external antenna loses signal strength when the user holds a finger over the phone's lower left side. Although this makes no practical difference in areas with a good signal, it can result in dropped calls in weak signal areas. A media frenzy over the issue — spurred in large part by Consumer Reports' condemnation — prompted Apple to give away free bumper cases to stop signal loss, and to offer free returns for unsatisfied customers.
Apple's iPhone 4S product page doesn't specifically mention the Antennagate controversy, but notes that the new phone uses two antennas to transmit and receive, "so call quality is better."
Consumer Reports continues to not recommend the iPhone 4, which is still available and can still lose signal strength in weak signal areas if not covered by a bumper case. Not that it matters; the iPhone 4 was the best-selling smartphone at AT&T and Verizon Wireless right up until the launch of the iPhone 4S. So the bigger takeaway here is that most people don't listen to Consumer Reports.
Follow Jared on Facebook, Twitter or Google+ for even more tech news and commentary.