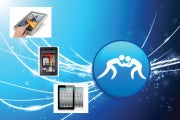 Barnes & Noble followed in the footsteps of Amazon's Kindle Fire Monday with a new Nook Tablet designed to compete with the iPad by not competing with the iPad. In fact, both the newly announced Nook Tablet and the Kindle Fire are trying to be what many thought the iPad would be: A handheld media consumption device with a form factor larger than a smartphone.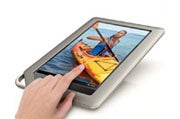 This new strategy could help the new Nook and Fire compete with the iPad while other tablet competitors that have tried to match the iPad languish on store shelves. Competitors such as the Samsung Galaxy Tab, Motorola Xoom, Blackberry PlayBook, and HP TouchPad offer an equally–and sometimes more–expensive device with fewer third-party apps or a comparatively poor user experience.
To date, the TouchPad has been killed off (although it does keep coming back), a string of promotions are trying to improve PlayBook sales, and the Xoom and Galaxy Tab are afterthoughts.
While other companies keep trying to counter Apple, the iPad continues to dominate the new one-panel slate device category. Apple has sold about 40 million iPads since launching the device in 2010, and a recent study by metrics firm comScore said the iPad is responsible for more than 97 percent of all U.S. online web traffic generated from tablets.
The New Non-Tablets
Barnes & Noble's new tablet features a 7-inch display with 1024-by-600 resolution, 1 GHz Texas Instruments OMAP4 dual-core processor, 1GB RAM, 16GB storage, a microSD card slot supporting up to 32 GB, and 802.11 b/g/n Wi-Fi connectivity. The Nook Tablet sells for $250, is available for pre-order now, and starts shipping November 18.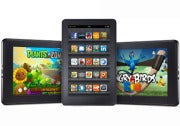 Amazon's Kindle Fire features a 7-inch display with 1024-by-600 resolution, TI OMAP 1 GHz dual-core processor, 8GB internal storage, and 802.11 b/g/n Wi-Fi connectivity. The Kindle Fire sells for $200, is available for pre-order now, and starts shipping November 15.
While both devices have good specs, especially for the price, these tablets aren't notable for what they offer but for what they don't. Part of the reason the new Nook and the Fire can offer such lower prices compared to the $500 entry price for the iPad is the lack of full-powered tablet specs such as Bluetooth, GPS, front- and rear-facing cameras, smaller screen sizes, and 3G connectivity.
It's All About Media
Both the Nook Tablet and Kindle Fire are also being marketed primarily as tablets for reading e-books, watching movies and TV shows, browsing the Web, and checking email. That is what most people believed the iPad would be used for, but thanks to third-party developers and Apple's App Store, the iPad has also become a content-creation device. You can use the iPad to draw an image, edit video, create a music track, learn to write computer code, and connect to a remote computer via SSH.

Perhaps the Fire and the Nook Tablet will have apps to compete with some of these features but, make no mistake, these iPad competitors aren't trying to match Apple's tablet pound for pound. Instead, they're trying to win over customers by offering a cheaply priced tablet that can match the iPad in terms of content consumption.
At some point, a number of tablets will probably show up that can match the iPad's specs and have the chops to actually compete with it. Perhaps Google's new Android OS flavor, Ice Cream Sandwich, will bring us tablets that can take on the iPad, or perhaps upcoming slates such as the Xoom 2 can do it.
But it's more likely the iPad won't see any serious competition until mid-2012 or even 2013. Until then, media consumption tablets such as the Nook Tablet and Kindle Fire are offering something that tablet shoppers can value: A moderate price and a wide selection of content including music, videos, e-books and games.
Connect with Ian Paul (@ianpaul) and Today@PCWorld on Twitter for the latest tech news and analysis.