While some consumer electronics manufacturers have cleaned up their act, making more energy-efficient gadgets with fewer toxic materials, others are continuing to make fine promises but no changes, according to Greenpeace. In response, the environmental pressure group is changing the way it scores companies in its Guide to Greener Electronics, placing more emphasis on their actions than their words, and measuring new aspects of their operations.
The latest guide to greener PCs, TVs and mobile phones recognizes the efforts Hewlett-Packard and Dell have made to clean up their supply chain, catapulting them up the rankings, while Nokia has slipped back to third place after leading since September 2008. BlackBerry maker Research In Motion came in last place.
HP scored 5.9 out of 10, the energy efficiency of its products and its avoidance of hazardous substances putting it well ahead of second-placed Dell, with 5.1 points, Nokia with 4.9 and Apple with 4.6.
Greenpeace rated Nokia's products more energy efficient than HP's, but gave the PC manufacturer bonus points for a range of sustainable operations criteria that haven't appeared in the rankings before.
For instance, HP scored well for its advocacy of clean energy policy, its clean electricity plan and its clear policy in favor of sustainably sourced paper and against deforestation — something still missing at Nokia, which began life as a paper manufacturer.
"The original guide criteria were created in 2006, and there's been a lot of progress on toxics phaseouts since then," said Greenpeace senior campaigner Tom Dowdall.
The Greenpeace guide originally set out to encourage manufacturers to stop using materials such as brominated flame retardants (BFRs) and PVC insulation in their products, and many manufacturers did so between 2008 and 2010.
Companies such as HP, Apple and Acer were particularly quick to react, said Dowdall. Apple's products are now BFR-free and the company uses no PVC, except where required by local safety regulations on power cords, according to the latest edition of the guide.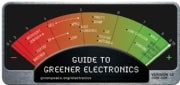 While the new rankings still measure the energy consumption and PVC and BFR content of finished products, Greenpeace is now targeting the way they are made, asking companies to report on the greenhouse gas emissions and type of energy used by the factories that make them, and even the suppliers of the components and raw materials that feed the assembly lines.
"If you haven't measured it, you can't reduce it. Measurement and disclosure are the basics of any target-setting," Dowdall said.
Greenpeace has changed the scope of the guide in other ways. Games console manufacturers Microsoft and Nintendo are no longer ranked, and neither are PC maker Fujitsu nor phone manufacturer Motorola Mobility. The report now covers 15 major manufacturers of PCs, TVs and mobile phones: HP (5.9 points out of 10), Dell (5.1), Nokia (4.9), Apple (4.6), Philips (4.5), Sony Ericsson (4.2), Samsung Electronics (4.1), Lenovo (3.8), Panasonic (3.6), Sony (3.6), Sharp (3.0), Acer (2.9), LG Electronics and Toshiba (both 2.8), and Research in Motion (1.6). A full breakdown of the scores can be found on the Greenpeace website.
Greenpeace praised all but the last four companies for either their product energy efficiency, the disclosure of their own greenhouse gas emissions, or both. HP and Dell were also praised for their sustainable sourcing of paper products, Nokia and Apple for their voluntary take-back programs in countries without electronic product recycling laws, and Sony Ericsson for its chemicals management and advocacy.
Sony was criticized (and lost a point) for opposing legislation in California to make battery chargers and appliances more energy efficient.
Twelve of the companies (all save Acer, LG and Sony Ericsson) were warned that they too will lose a point next year if they continue to support industry bodies that have also opposed the energy efficiency legislation.
Peter Sayer covers open source software, European intellectual property legislation and general technology breaking news for IDG News Service. Send comments and news tips to Peter at peter_sayer@idg.com.