Adobe is finally ready to concede defeat in the mobile Flash wars and will halt development of its mobile Flash Player plug-in for phones and tablets.
According to a ZDNet report, Adobe will no longer be developing its Flash Player and will refocus its development efforts on HTML5, as well as mobile apps and content. On Tuesday Adobe did restructure itself around digital media and digital marketing.
"Our future work with Flash on mobile devices will be focused on enabling Flash developers to package native apps with Adobe AIR for all the major app stores," ZDNet quotes Adobe as telling developers. "We will no longer adapt Flash Player for mobile devices to new browser, OS version, or device configurations."
According to ZDNet, Adobe also emailed a briefing to its partners, which basically reiterated that Adobe will no longer be developing Flash Player for mobile browsers, and will be working on HTML5 development.
A full announcement outlining the changes is expected Wednesday durring a press conference that will be available via a webcast at 10 a.m. ET.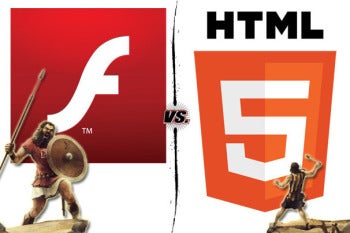 Adobe has been working on its new HTML5 development application and Adobe Edge – both technologies compete with its Flash Player. Adobe has been fighting to keep its platform relevant, even after Apple famously snubbed the company by refusing to support Flash on its iOS platform. This could also mean trouble for Android and Android developers, since one of the major differences between iOS and Android is the latter's ability to run Flash natively.
I can't say this is a terribly surprising move, however. Not only has Adobe been restructuring–it plans to cut 750 jobs and reduce investment in enterprise software in the upcoming months, but it has been moving closer and closer to HTML5 with its Edge software.
Considering HTML5 is Adobe Flash's direct competitor, it's clear that even Adobe knew its Flash days were winding to an end. Adobe also offers Wallaby, which is software that helps convert Flash coding into HTML5 coding.
Adobe was not immediately available for comment at the time of this posting.