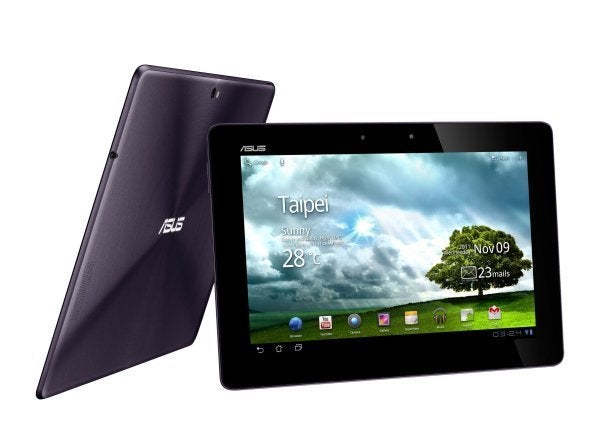 Tablet shoppers will have three new devices to compare to the iPad 2 this holiday season including Asus' newly announced Eee Pad Transformer Prime, the first tablet to feature Nvidia's new Tegra 3 quad-core processor. The Prime joins Amazon's Kindle Fire and Barnes & Noble's Nook Tablet as the latest set of tablet devices hitting store shelves before the end of the year. Asus says the Prime will be available in December, presumably in time for holiday gift giving, starting at $500 for a 32GB device running the Honeycomb version of Android. Asus also promises the Prime will get an upgrade to Android's next flavor, Ice Cream Sandwich, at a later date.
Four tablets: Two basic experiences
The interesting thing about this season's tablet options is that manufacturers are offering two very different experiences. If you're looking for a standard tablet experience that includes a full-featured device with access to a wealth of third-party apps, then you're considering devices such as the Transformer Prime, iPad 2, and many others such as the BlackBerry PlayBook. But if you simply want to watch videos, read e-books, listen to music and check the occasional e-mail then the simplified Fire and Nook Tablet offer a great value for your needs.
The iPad 2, Transformer Prime, Nook Tablet and Fire also give you access to four different app stores. If you go with the iPad 2, you get Apple's App Store built into iTunes; the Transformer Prime hooks into the Android Market; Kindle Fire works with Amazon's smaller Appstore for Android; and the Nook Tablet offers its own tightly controlled app store.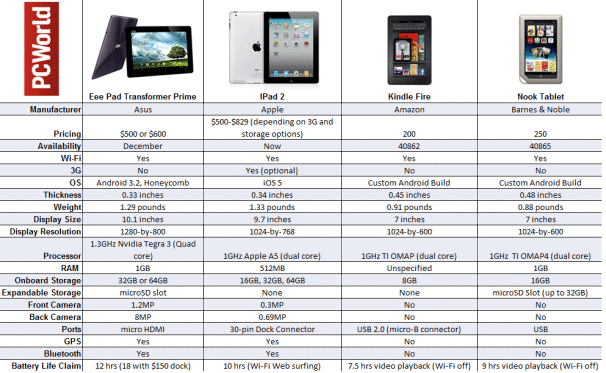 The Fire and Nook Tablets also require you to go without some handy features found on other devices. You won't find any cameras on these slates for video chat or snapping a quick image. Connectivity options are also limited and you'll be stuck with Wi-Fi only — other options such as GPS and Bluetooth are also absent.
You may miss out on video chat with your friends or using a Bluetooth keyboard using the Nook Tablet or Kindle Fire, but you'll also get some significant savings on your tablet purchase. While the Transformer Prime and the iPad 2 start at $500, the Fire will sell for $200 and the Nook Tablet for $250.
So far, the big question for tablet buyers has been, as Harry McCracken said this year on Technologizer, "Why Should I Buy This Instead of an iPad?" Apple's competitors such as the Motorola Xoom, PlayBook and Samsung Galaxy Tab have largely failed to gain any traction with tablet buyers compared to the success of the iPad — about 40 million sold since 2010. The Eee Pad Transformer Prime may fare better against Apple's tablet since it is offering some beefier specs and more storage at a lower price compared to the iPad 2.
But with the entry of devices such as the Fire and Nook Tablet from companies that are more focused on providing great content for your device than killer specs, the bigger question this year is: "What kind of tablet experience do I want?"
Connect with Ian Paul (@ianpaul) and Today@PCWorldon Twitter for the latest tech news and analysis.