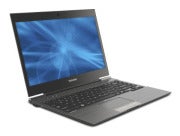 The Toshiba Portege Z835 is the latest Ultrabook to hit the scene with a firm price, cracking the $1,000 price barrier and coming exclusively to Best Buy.
Toshiba's Ultrabook joins the Acer Aspire S3 in being the most affordable of Intel's new category of thin-and-light laptops: It's $200 cheaper than the Asus Zenbook UX31 and $400 less than Apple's uber-thin darling, the MacBook Air.
What do you get for $899? A 1366 pixel by 768 pixel 13.3-inch display, a 1.4GHz Intel Core i3 processor, 4GB of RAM, and a 128GB solid-state drive.
The Portege Z835 has another good thing going for it: So far, it's the lightest 13-inch laptop around, weighing less than 2.5 pounds.
Add in the backlit keyboard, promised battery life of 7 hours, and lots of full-size ports, and the Portege Z835 is one of the most attractive Ultrabooks to date.
If you can find it, that is. Laptop Magazine reports that the Portege Z835 is available exclusively at Best Buy, but as of this writing, the Toshiba Ultrabook isn't on BestBuy.com. I called Best Buy's 800 number Wednesday o find out if it's carried in stores, but the customer service rep couldn't find it in her database.
We expect the laptop to be available soon, however, and other configurations to trickle onto other retailers' sites.
Follow Melanie Pinola (@melaniepinola) and Today@PCWorld on Twitter