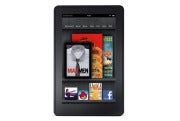 New research suggests the Kindle Fire could chomp into over a quarter of the iPad's sales — an impressive feat, considering Apple's iPad currently has 67 percent dominance over the tablet market.
But despite the Kindle Fire's impressive pre-order numbers–95,000 units pre-sold on day one and an estimated 50,000 per day leading up to its November 15 launch–the research, conducted by ChangeWave and reported by RBC Capital Markets, has a few misleading flaws.
Kindle Fire has Pent-Up Demand, Postpones other Gadget Buys
ChangeWave's survey–sent to clients, including Apple Insider and CNN–polled 2,600 people on their tablet-purchasing plans and compared those findings to a similar study conducted in 2010, before the first-gen iPad's launch. Here's a look:
5 percent of respondents had already pre-ordered or said they were "very likely" to buy the Kindle Fire, with 12 percent said they were "somewhat likely" to purchase
By comparison, in the February 2010 survey, only 4 percent of respondents said they were "very likely" to buy the first-gen iPad, with 9 percent saying "somewhat likely"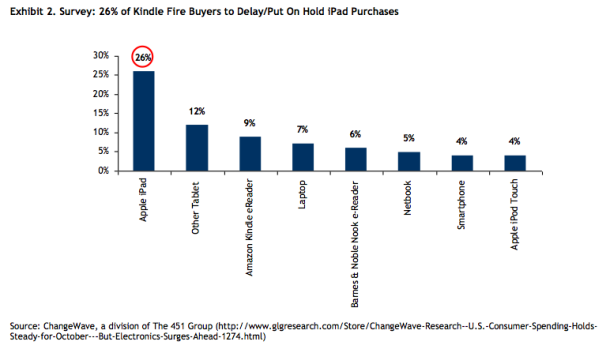 Of the 5 percent "already pre-ordered or very likely" Kindle Fire purchasers, 26 percent said they would "delay or put on hold" the purchase of an iPad … and that's where the study gets wonky.
The Inevitability of the iPad?
The semantics here are important: notice how the language states that the procurement of a Kindle Fire would "delay or put on hold" the purchase of an iPad, rather than "completely forgo" or "ignore." If you take the language as-is, the implication is that buying an iPad is inevitable; as though we can't control ourselves and that we'll all eventually own iPads.
Either ChangeWave's questions were sloppily written or the intended survey results were preordained, biased to stir sensational headlines.
ChangeWave's survey goes further to say the Kindle Fire will bite into the laptop, netbook, e-reader, smartphone, and MP3-player markets: the question to that 5 percent not only included the iPad, but also Other Tablet, Amazon Kindle e-Reader, Laptop, Barnes and Noble Nook e-Reader (but not specifically the Nook Tablet), Netbook, Smartphone, and Apple iPod Touch. The Kindle Fire might be a pretty powerful device, but it's certainly not that encompassing.
The Kindle Fire will probably slice off a bit of the iPad's market control, but we don't know how much right now. ChangeWave's survey just takes us further away from that answer.