At a Glance
Expert's Rating
Pros
Excellent keyboard and touchpad
Pleasantly light and compact
Cons
Needs more USB ports
Could use slightly more pixels on screen
Our Verdict
Dell's XPS 14z offers a balanced approach to thin-and-light, full featured laptops, but has only two USB ports.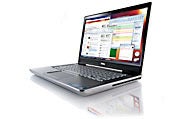 Lost in all the hoopla over Intel's Ultrabook initiative are the more traditional, full-function thin-and-light laptops. The Dell XPS 14z borrows some lines from Apple's 13-inch MacBook Pro and incorporates a slightly larger display and a better keyboard. On the other hand, the shell appears to be mostly plastic, so it lacks the rigidity of the Apple laptop. The net result represents something close to the state of the art in the all-purpose class of notebook PCs, but it falls a little short of laptop perfection.
Our review unit came with an Intel Core i7-2640M clocked at 2.8GHz (up to 3.5GHz in Turbo Boost mode), and a generous 8GB of RAM. Also included was an Nvidia GeForce GT 520M discrete GPU with 1GB of dedicated frame-buffer memory. Dell supports Nvidia's Optimus technology, which allows the integrated Intel HD Graphics to handle all the mainstream graphics chores, with the GeForce GT 520M kicking in when better 3D chops are necessary. Our test configuration will cost you $1299 (as of November 9, 2011). The entry-level configuration ($999) includes a Core i5-2430, 6GB of RAM, a 500GB hard drive, and integrated graphics. You're better off springing for the upgrade to get the dedicated graphics chip.
Unfortunately, those better 3D chops aren't all that much better. Although the Nvidia GPU surpasses the Intel HD Graphics in performance, you'll still need to dial down the graphics detail significantly if you want to run games in DirectX 10 or DirectX 11 mode. The Nvidia GPU does make the XPS 14z quite a nice mobile machine for games such as World of Warcraft or Civilization V, though.
The display offers fairly accurate color rendition when showing photographs or video. The horizontal viewing angle is better than average, but the vertical viewing angle is quite shallow. Video playback quality is robust, with fairly light motion smearing. DVD playback upscaled to the full panel resolution appears just a touch soft, but lacks the "mosquito noise" visible in some competing laptop screens. HD content scaled down also looks very nice indeed.
One minor disappointment with the display is the resolution. Even though the XPS 14z has the same native resolution as most Windows laptops in this class do–1366 by 768 pixels–I expected a little better of Dell. After all, Sony now ships a 13.3-inch unit with a 1600-by-900-pixel display, and MacBook Airs offer 1440 by 900 pixels. Dell could have distinguished the XPS 14z's display from the pack by upping the resolution a bit. Nevertheless, it's an attractive, usable display–and for older users, having slightly larger fonts on the 14-inch display may matter more than having additional pixels.
Audio playback quality is a mixed bag. Overall, I'd give it a cautious thumbs-up, but the Waves Maxx Audio software processing that fills out the sound also makes vocals in music sound a little artificial. Without Waves Maxx, volume levels are quite low–and even with the processing software enabled, volume levels never get particularly loud. Voice in DVD movies is clear and understandable.
The keyboard is excellent. The keys are sculpted, and feel quite good under the fingers. If you're not a touch typist, you'll appreciate the fact that the letters on the keys are in a large, easy-to-read font, and that the keyboard itself has two backlight levels. The touchpad is large and fully supports multitouch gestures. It is a tad oversensitive, though, and you may occasionally see the mouse cursor jump across the screen as you're typing.
Performance is a cut above average for this category, with the XPS 14z earning a score of 136 in WorldBench 6. Battery life is also quite good: At 5 hours, 29 minutes, the XPS 14z lasts a good hour longer than the average laptop in its class. That extra battery life means you won't have to lug around a power brick for a good chunk of the working day.
This $1299 version of the XPS 14z ships with a 750GB, 7200-rpm hard drive. If you carry around a lot of digital photos and music, you'll be happy with that. If you're willing to pony up another $300, Dell offers a nearly identical XPS 14z with a 256GB solid-state drive; you give up a little capacity, but get much speedier storage performance. The slot-loading DVD drive could be filed under "nice to have," but in today's streaming media world, it's less essential it would have been a couple of years ago. Networking includes Bluetooth 3.0, plus 802.11n Wi-Fi and gigabit ethernet.
One respect in which the XPS 14z falls short is ports: It offers only two rear-mounted USB ports. That's unfortunate, as USB connections are precious commodities on a laptop. One of the ports does support USB 3.0 (SuperSpeed), though. Also on the rear are a mini-DisplayPort connector, an HDMI port, and an ethernet jack (plus, of course, the power plug). A pair of audio jacks and an SD Card slot grace the left side; the SD Card slot supports the latest SDXC high-capacity cards. On the right side are the DVD drive and the battery-life indicator LEDs–but you won't find any additional USB ports there.
Overall, the Dell XPS 14z is an elegant-looking, lightweight laptop, weighing just 4 pounds, 7 ounces (5 pounds, 6 ounces with the 90W power brick). It's easy to carry, easy on the eyes, and easy to type on. Most users will be happy with this laptop, but they may find themselves wishing for just one or two more USB ports.