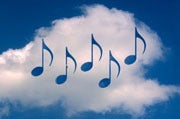 Major technology companies, including Amazon, Apple, and Google, are lining up alongside smaller service providers to help consumers store and stream their music collections online. Whether you want to listen on your PC, your tablet, or your smartphone, you can find a number of online services that cater to your particular needs.
Accessing your music online is particularly ideal on mobile devices since many handsets and tablets have constrained storage space of 16GB or less. And with Wi-Fi becoming ubiquitous, having your music collection available to you online lets you access songs from more locations than just your hard drive at home.
If you're ready to let your music "reach for the cloud," here's a look at five new and not-so-new services that let you sync, stream, and download your music on your PC, your mobile devices, and even your television's set-top box. Some services require you to upload your music, while others will match your files with an online catalog, no uploads required. And one original service lets you ship your entire CD collection to a remote storage facility in the Midwest, where somebody else will digitize your entire collection for you.
Cloud Music Services: Features Comparison
| FEATURE | Amazon Cloud | Google Music Beta | iTunes Match | MP3Tunes | Murfie |
| --- | --- | --- | --- | --- | --- |
| Free option | 5GB free (1000 songs) | Free for a limited time | None | 2GB (about 400 songs) | None |
| Cost | $20 to $1000 per year | Free for a limited time | $25 per year | $40 to $140 per year | $24 per year |
| Regular storage limits | Unlimited* | 20,000 songs | 25,000 songs | 200GB (about 40,000 songs) | 1000 CDs |
| Mobile apps | Android | Android, iOS | iOS | Android, iOS, WebOS, WP7 | None |
| Desktop app | Music upload tool | Music upload tool | iTunes | Upload and sync tool | None |
| Mobile Web interface | Yes | Yes | No | Yes | No |
| Mobile offline listening | Yes (Android only) | Yes (Android only) | Yes | No | Yes |
| Online streaming | Yes | Yes | Unknown | Yes | No |
| Automatic device sync | Yes | No | Yes | Yes | No |
| Web interface | Yes | Yes | No | Yes | Yes |
Amazon Cloud Drive and Cloud Player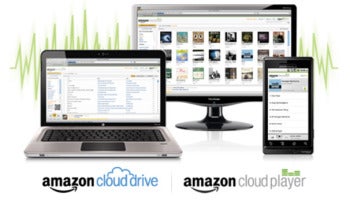 Cost (for both Cloud Player and Cloud Drive): 5GB of free storage (about 1000 songs); an extra 20GB to 1000GB costs from $20 to $1000 per year.
Works with: Most major Web browsers; two native Android apps, Amazon MP3 (Android Market) and Cloud Player for Android (Amazon Appstore for Android); iOS via the Cloud Player website.
Pros: Free storage for up to 1000 songs; integration with the Amazon MP3 store; you can upload other files as well as music to Cloud Drive; one setting automatically downloads MP3 purchases to your devices.
Cons: Uploads required; no native app for iOS; support for other mobile devices (BlackBerry, WebOS, Windows Phone 7) is limited.
Thoughts: Amazon's approach to cloud-based music listening requires two pieces–Cloud Drive to store your files, and Cloud Player to stream them. Similar to Google Music Beta, Amazon's Cloud Drive and Cloud Player require you to upload all your music files to the company's servers.
You can upload files through Cloud Drive using your browser, or download the upload utility through Cloud Player (Mac and PC only). Even though you're moving your music to the cloud, if you want to retain a copy on your PC, you can adjust your Cloud Player settings so that any purchases from the MP3 Store automatically download to your computer.
Automatic downloading of purchases is set uniquely on each PC you use, and is not a global setting for all your devices. Amazon allows you to use Cloud Player on up to eight devices in total.
Officially, the iPad is the only device that Cloud Player supports, but if you click through the warnings that Amazon tosses up, you can still get Cloud Player to work on your iPhone.
In Video: A First Look at the Amazon Cloud Player
Google Music Beta

Cost: Free for now, but may become a paid service in the future.
Works with: Windows XP or higher, Mac OS X 10.5 or higher, Linux (Debian, Ubuntu, Fedora, OpenSUSE), Android 2.2 or higher, iOS 4.0 or higher (Web app). May also work with other mobile devices such as RIM BlackBerry and Windows Phone 7 handsets, though no official support is available for them.
Pros: Stores up to 20,000 songs for free; can add free music from Magnifier; can save tracks for offline listening on Android devices.
Cons: Requires upload of music files; no offline option for iOS; unclear how much Google will charge for the service in the future.
Thoughts: You can't beat free cloud storage and streaming for your music, but Google has said that Music Beta will be free for only a limited time, meaning the company will eventually charge for it. So you might go to the trouble of uploading all your music only to discover a few months later that Google is asking too much money for the service.
To move your music to Google's servers, you need to download a bare-bones desktop app called Music Manager that doesn't do much more than sit in the taskbar and upload your music. By default, Music Manager uses as much bandwidth as it can; you can adjust the upload rate if it's consuming too much.
Next: iTunes Match, MP3Tunes, and Murfie
iTunes Match
Works with: Mac or PC with iTunes 10.3.1 or higher; devices running iOS 4.3.3 or later.
Pros: Converts lower-quality recordings into high-quality 256-kbps AAC DRM-free files; minimal uploading.
Cons: No free option; the iTunes Match service is not yet available; works only with iOS mobile devices.
Thoughts: Of all the cloud-based options for getting your music collection online, iTunes Match is probably the easiest to use–at least in theory. The new offering is part of Apple's iCloud sync service for documents, apps, music, ebooks, calendars, contacts, and email. ITunes Match was supposed to launch in late October, but is currently in a developer-only preview. Apple has yet to officially announce a launch date for iTunes Match.
Once iTunes Match does arrive, here's how it's supposed to work: Apple compares your iTunes library against the iTunes Store catalog of 20 million songs, and automatically adds any matches to your iCloud account. If Apple doesn't have a given song, you then get the option to upload that file to iCloud.
You can have all songs in your iCloud account automatically download to your iOS devices (including Apple TV) and to your PCs running iTunes 10.3.1 or higher. We've also seen reports that the developer preview of iTunes Match includes a streaming option, but Apple has yet to officially announce that feature.
Any purchases you make via iTunes (including past purchases) automatically appear in your iCloud account, and do not count against iTunes Match's 25,000-song limit. You can use iTunes Match on up to ten devices, but only a maximum of five can be PCs; you can use iTunes Match on two Apple TVs. Since iTunes Match is in a developer preview right now, features are subject to change.
If you don't want to pay for iTunes Match, you will still have the option to download your past iTunes Store purchases to your other iTunes-compatible devices.
MP3Tunes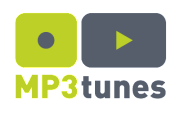 Cost: 2GB of storage for free; 50GB to 200GB available for $40 to $140 per year.
Works with: Windows, Mac, Linux, Android, Chumby, iOS, PlayStation 3, Roku, TiVo, Wii, Windows Phone 7, Xbox 360, and many other devices.
Pros: You can store up to 2GB of music (about 400 songs) for free; you can listen to your music on just about anything that can get online.
Cons: Service gets expensive after 2GB of storage; you have to upload your own music; the company has engaged in legal tussles with the recording industry.
Thoughts: MP3Tunes is a music locker similar to the Amazon and Google offerings. Unlike those two newcomers, however, MP3Tunes has been around since 2005, and has spent its time partnering with third parties to bring streaming of users' personal music collections to as many devices as possible.
You can search for free music online using Sideload.com, and save it directly to your MP3Tunes music locker, too. MP3Tunes recently won a decision in its ongoing court battle with label EMI–similar to Amazon and Google, MP3Tunes has not sought a license from music companies to offer its service to users. The decision allows MP3Tunes to continue operation; whether EMI will appeal the ruling is not clear.
Murfie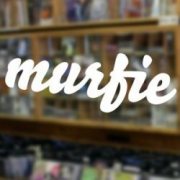 Cost: Annual Gold Membership for $24; à la carte pricing options available.
Works with: Most modern PC Web browsers.
Pros: Lets you sell or trade your old CDs; removes your CDs from your house, but you still retain ownership of them; rip and download services available; somebody else rips your CDs for you.
Cons: No streaming; doesn't work with mobile devices; you must make a request for each CD you want ripped.
Thoughts: Of all the cloud options, Murfie is the most difficult to understand. The service bills itself as an online marketplace where you can buy, sell, or trade CDs from your collection. But it is also a remote-storage service that lets you store up to 1000 CDs from your collection for $12 per year. The jewel cases from any CDs sent to Murfie are recycled, and your CDs reside in envelopes at Murfie's storage facility.
To get started, you mail CDs from your collection using a shipping kit that Murfie provides for free. Then, in one or two weeks, Murfie processes your shipment and sets up your CDs in your personal online storefront on Murfie.com. From there, you can sell or trade your old CDs; you can set any price you want, and Murfie takes a 30 percent cut of any CDs you sell.
You can also request that Murfie create a digital version of your CD collection, which you can then download. Murfie will convert your CDs into the file format of your choice, such as MP3, FLAC, Apple Lossless, AAC, or Ogg. Once you request one of your CDs in digital format, Murfie grabs your physical disc, rips it to Murfie servers, and prepares the download as a .zip file containing the music, the file metadata for each track, and the album art. Typically it takes about an hour or less from the time you request a CD rip until you receive an email notifying you that the tracks are ready for download.
Clearly, the loophole here is that once you download a CD, you could then turn around and sell it through your Murfie storefront. To prevent such moves, Murfie prohibits you from selling or trading a CD until 30 days after you've downloaded it from the company's site. Murfie's terms also require you to delete any copies of the music on your hard drive once you sell your CD to somebody else. As far as I can tell, though, Murfie has no way to verify that you've done so.
You can find many other cloud music options for pushing your tunes off your hard drive and into the cloud, such as SugarSync and Mougg. Even generic online file storage services such as Dropbox offer limited online streaming capabilities for music collections. It's a cloud-based music world out there now. The only question is: Which service do you prefer?
Connect with Ian Paul (@ianpaul) and Today@PCWorld on Twitter for the latest tech news and analysis.