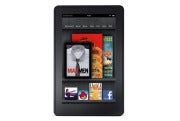 Apple's iPad 2 may have a hard time fending off the Amazon Kindle Fire this holiday season, according to three studies. Despite a smaller screen and less capable hardware, the Kindle Fire seems to have captivated prospective holiday shoppers, as the $200 Android tablet is set to arrive Nov. 15.
The 7-inch Kindle Fire is part of a new breed of iPad competitors that undercut Apple's pricing by up to $300 and aim to offer a similar integrated and curated ecosystem of books, newspapers, magazines, movies, TV shows and apps. Unlike the iPad, the Kindle Fire doesn't have any cameras and it comes with less storage (see comparison chart).
But that's not stopping Amazon's newest tablet: a survey from shopping comparison site Retrevo found that 44 percent of those asked whether they would buy a $200 Fire rather than a $499 iPad 2 this Christmas opted for Amazon's offering. Only 12 percent of respondents said they would buy an iPad, while the other 44 percent said they don't know enough about the Amazon tablet.
Another study this week, this time from ChangeWave polling early adopters, found that 5 percent of respondents have pre-ordered a Kindle Fire, or are very likely to do so soon. This exceeds the iPad launch, when 4 percent said they were very likely to buy the original iPad in 2010. The survey also found that 26 percent of Kindle Fire buyers delayed or put on hold an iPad purchase. A third study from market researcher eDataSource last month also indicated pre-orders for the Kindle Fire are set to exceed one million, as Amazon prepares to ship some five million Fires this holiday season.
Don't read too much into these studies — they are only indicative of what people might rush to buy this Christmas, and each have their own flaws. For example, the Retrevo study did not ask about the Barnes & Noble Nook Tablet announced this week, which is $50 more expensive than the Kindle Fire, but essentially doubles-up on specs (see comparison chart). My PCWorld colleague Brennon Slattery also points out inconsistencies in the way ChangeWave asked its survey questions that could have skewed the results.
Follow Daniel Ionescu and Today @ PCWorld on Twitter