Have you ever wished you could stretch an ink cartridge's life so that you wouldn't have to buy a replacement so soon? There's an app for that.
As PCWorld's Serial Refiller, I've spent nearly a year trying various remanufactured ink cartridges and do-it-yourself refill kits. All of the alternatives I've inflicted on my trusty HP Photosmart e-All-in-One printer have been cheaper than the OEM cartridges (HP 60 black and tricolor), but with each one I've encountered a catch: a messy refill process, for instance, or inferior print quality.
For my final experiment, I'm trying Inkgard's wares. Inkgard sells remanufactured cartridges as well as the Inkgard software utility, which lets you dial back ink usage–as drastically as 75 percent–to stretch the cartridge's life. According to Inkgard, the software acts as a printer driver, removing the desired percentage of ink (or toner pixels, if you have a laser printer) and reformatting the print file to enhance the image quality. A one-year subscription to the Inkgard utility comes with any purchase of Inkgard remanufactured ink or toner; it's also available separately for $10. The software supports only Windows PCs, but it works with any printer and with any ink or toner cartridge.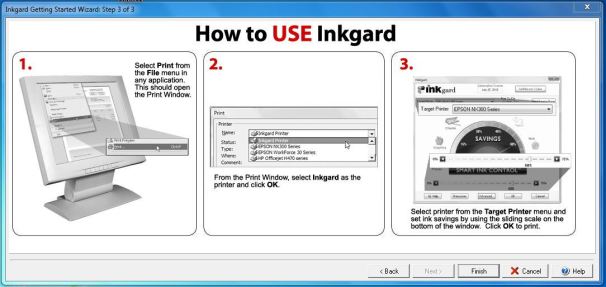 To get a fuller picture of how Inkgard's products work together and with other inks, I conducted three experiments: printing with the Inkgard cartridges, with and without the Inkgard software, and trying HP's own cartridges with the Inkgard software.
Product: Inkgard replacement cartridges for HP 60 Black (CC640WN) and Tricolor (CC643WN) Vendor URL: Inkgard.com Total price: $27.93 (black, $13.94; color, $13.99; includes a one-year subscription to InkGard's ink- and toner-saving software, a $10 value)
Inkgard cartridges tested without Inkgard software: Hassle factor: Low Print quality compared with OEM ink: Good to Fair Average yield (mixed set of samples): 116 pages (88, 151, and 109 pages in three tests) Average cost per page: 24 cents
Inkgard cartridges tested with Inkgard software: Hassle factor: Medium Print quality compared with OEM ink: Fair Average yield using 25 percent ink-saving setting (mixed set of samples): 186 pages (175 and 197 pages in two tests) Average cost per page: 15 cents
HP OEM cartridges tested with Inkgard software: Hassle factor: Medium Print quality compared with regular HP prints: Mediocre Yield using 25 percent ink-saving setting (mixed set of samples): 152 pages Cost per page using default 25 percent ink-saving setting: 23 cents
My findings surprised me. The page yield from Inkgard's remanufactured cartridges, when used alone, varied widely. Among the three sets of cartridges I tried, only once did Inkgard's yield exceed the OEM ink's total of 134 pages–and that time, the output was disappointing. In addition, Inkgard's software provided less of a savings with the HP OEM cartridges than it did with its own cartridges. Finally, although Inkgard's software gives you lots of latitude to tweak the settings and reduce ink usage, you have to accept a trade-off between ink savings and print quality.
My Serial Refiller short-term experiences are anecdotal, and they do not test the durability or archivability of third-party inks, nor how the printer will fare after repeated use with them. Nevertheless, my hands-on tests offer a taste of what you can expect if you try a third-party alternative with your own printer. Check out my prior Serial Refiller adventures to learn more about what it's like to use refilled or remanufactured ink cartridges.
Inkgard Cartridges Alone Are a Mediocre Deal
Over the course of two months, I bought multiple sets of Inkgard cartridges online, and they always arrived at my doorstep within a few days. Like remanufactured cartridges from other vendors, the Inkgard tanks were visually indistinguishable from the HP OEM models, aside from the company's stickers.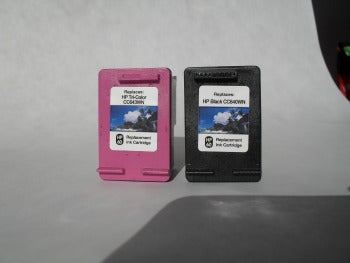 Printing went off without a hitch. I ran the HP-recommended alignment procedure, and began printing. Aside from the usual warning messages that appear on the printer's control panel whenever I use third-party cartridges, I encountered no other glitches.
None of the Inkgard cartridge sets, tried alone, were satisfactory in both page yield and print quality. The first and third sets of cartridges produced disappointing yields of 88 and 109 pages, respectively–both totals significantly lower than the OEM cartridges' yield of 134 pages. On the other hand, the prints they generated were impressive: Fonts were sharp, and colors were accurate. A closer inspection revealed slight banding on some of the images, but most casual users wouldn't notice the difference. The pages looked so good, in fact, that I found it difficult to distinguish them from those created with HP's own inks, which are the gold standard for the Serial Refiller.
My test of the second Inkgard cartridge set was the oddball. Page output was higher than in the first and third tests, amounting to 151 pages versus the OEM cartridges' 134. Unfortunately, the print quality grew progressively worse, with fading colors, inaccurate flesh tones, and an odd, greenish tint appearing on one grayscale image.
I averaged the page yields of all three sets of Inkgard cartridges to get a representative yield of 116 pages, resulting in an average per-page cost of 24 cents–no great savings compared with 26 cents for HP's own cartridges. Among remanufactured competitors I've tried, Cartridge World's HP-compatible ink tanks cost me 19 cents per page, and Office Depot's ink cartridges cost 22 cents per page.
Could the Inkgard cartridges regain some ground when paired with their ink-saving software? That would be my next experiment.
Inkgard Software Saves, and Output Quality Suffers
As I mentioned earlier, Inkgard's cartridge and toner products come with a one-year subscription to Inkgard software, which sells separately for $10. The program works with any printer, according to Inkgard, and can cut ink or toner usage by as much as 75 percent. That's a jaw-dropping claim, all right, and it's an ink-saving enhancement that Inkgard's own cartridges could certainly use.
I tested the Inkgard software twice on a Windows 7 laptop. Each time, my printer held a fresh pair of Inkgard cartridges. The 52MB app downloaded and installed effortlessly. Once I activated the software, the Inkgard Getting Starting Wizard launched, and showed me how to configure the Inkgard app as the default printer. Setup took just a few minutes. The next time I printed a document, Inkgard's speedometer-like Smart Ink Control screen popped up. The default ink-savings setting is 25 percent, which I used in nearly all of my tests.
The Smart Ink Control dialog box offers ink-savings suggestions for various print jobs. Printing photos? Reduce ink usage by 10 percent or less. Email? Well, quality doesn't matter as much, so try 65 to 75 percent. The greater the savings, obviously, the lighter the prints.
To find out which setting works best, you should print a sample page. For instance, I printed a page from a Macworld magazine article containing color blocks and an abstract image. I selected five different settings: 0 (no savings), 25, 45, 55, and 75 percent. Presented here is a detail of the same area on each page (click each sample to view it full-size); in these samples, you can see how text and images grow progressively lighter as ink usage decreases.
For me, the default 25 percent savings level produced the most acceptable results. Although color and grayscale images lose considerable sharpness at that setting, they're fine for everyday home and office use. For high-quality photos, however, you'll probably want to get as close to full ink usage as possible.
The yield results were impressive: Under the default 25 percent setting, Inkgard's software boosted the output of its own cartridges to 175 pages in the first test, and to 197 pages in the second. That's an average of 186 pages, which is 60 percent higher than the 116-page average of the Inkgard cartridges without the software. The cost per page came out to a much better 15 cents–cheaper than either Cartridge World's or Office Depot's remanufactured cartridges. The Cartridge World and Office Depot competition used full ink coverage, however, and therefore produced better-looking images.
Inkgard Software Less Effective With HP Cartridges
Finally, I tested Inkgard's software with a fresh pair of HP 60 ink cartridges. The 25 percent setting boosted the HP cartridges' page yield, but not by much: The total went from 134 to 152 pages, for a mere 13 percent improvement in yield. The cost per page improved at the same modest rate, to 23 cents per page from 26 cents per page.
Inkgard could not tell me why the Inkgard software produced greater savings with its own cartridges than with HP's. The company said that the software does not care what brand of cartridge is used.
With Inkgard's software, print quality from the HP 60 cartridges was mediocre, but still acceptable. Take a look at the samples here, showing the Macworld page with and without Inkgard (click the samples to see them full-size).
Inkgard Software Delivers–But Not Much, Perhaps
I was unable to try Inkgard's Software with other cartridges. Judging from my trials with Inkgard's own cartridges and with HP's, the savings appear to vary widely. I was more disappointed, however, by the varying performance of the three sets of Inkgard remanufactured cartridges I tested. Inkgard's products work, but not predictably.