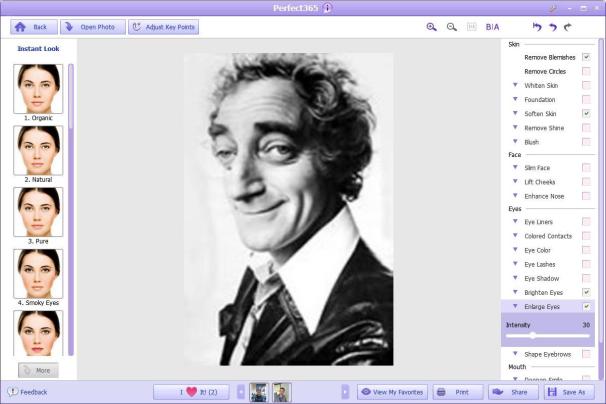 First, the important stuff: Billy Joel loves you just the way you are. Both Aaron Neville and Linda Rondstadt don't know much, but they know they love you. You don't need cosmetic surgery or a dramatic makeover, because you're beautiful, and Christina Aguilera would back me up on that.
You see, beauty comes from within, even if all those Photoshopped and air-brushed magazine covers conspire to suggest otherwise. However, if you never like the way you look in any photo, or if you're just curious to see what you'd look like with a few digital enhancements, ArcSoft's free Perfect365 app serves up that functionality in a very fun and addictive way.
Perfect365 is a 2012 CES Innovations Design and Engineering Award honoree in the Software & Mobile Apps category, and the cloud-based image-retouching software is currently offered for free as a Windows download. Using cloud-driven facial-detection features, Perfect365 lets you upload any portrait photo, then automatically pinpoints where the eyes, nose, and mouth are in the shot. From there, you can apply different digital makeover filters–21 presets, plus manual fine-tuning controls–to create a quick retouched portrait.
According to ArcSoft, a mobile version of the app for iOS devices will be released in mid-November. The Windows version is downloaded and installed on your system, but it requires a connection to the Internet in order to work as designed; much of the app's core facial-analysis features are driven from the cloud.
The software adds the appropriate digital make-up to the appropriate parts of the face and lets you see a before-and-after effect side by side. You can save the output to your computer, print it, or share it immediately via Facebook, Flickr, and Twitter directly from the app's interface. In essence, it's a very simple way to apply a wide range of face-retouching edits without the need for complex image-editing suites.
The one-click automated "makeovers" usually work without a hitch, but you can also fine-tune the facial-detection software to adjust the shape of the eyes, nose, mouth, and other facial features to fix any automation errors. A left-hand sidebar menu of options such as "Brighten Eyes," "Slim Face," and "Eye Colors" offer quick and easy adjustments, and there's an intensity slider for each setting that lets you make the effects either really subtle or really over-the-top.
Here's an example of subtle. I have bags under my eyes, crow's feet, an assortment of trenches and scars on my face, and a permanent cowlick. This adjustment took about 8 seconds, involved clicking three checkboxes and adjusting a slider. Although it couldn't fix the cowlick, the app did made me look less like a catcher's mitt: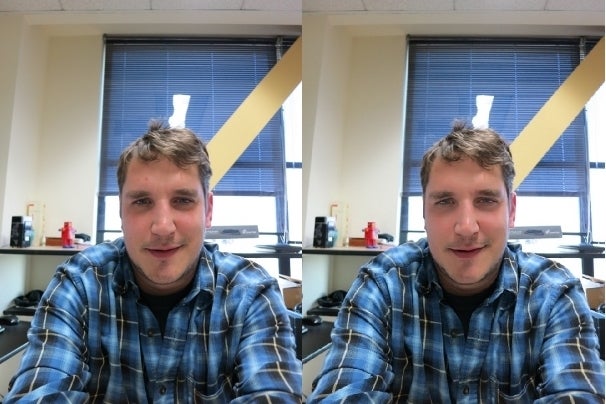 And here's an example of over-the-top, which is a more-compelling use case for many people. Just as an example, let's say PCWorld Digital Media Product Manager Curt Poff defeated you in last week's fantasy football matchup by 70 points. You can take a photo of him, run it through the "Smoky Eyes" filter, fine-tune the blush on his cheeks and thickness of his eyebrows, and post the output on the Internet like this.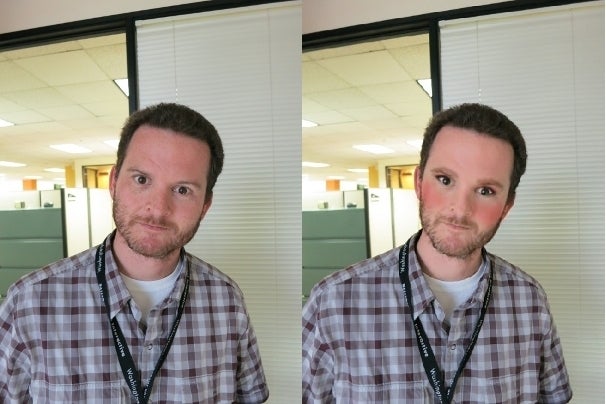 The software isn't just limited to solo portraits, either. If there's more than one person in the photo, it detects each person and lets you apply separate filters and adjustments to each face.
Fun aside, it's true that nearly every camera these days offers automated facial detection to automatically optimize exposure for portraits, and many cameras and mobile apps also have automated modes that blur out blemishes and wrinkles. Some of Panasonic's latest cameras go a step further, with similar, built-in "makeup modes" that let you use the cameras' touchscreens to physically retouch images and whiten teeth.
However, Perfect365 is a free and easy option for the bulk of novice photo retouchers. It offers the full suite of features mentioned above (plus a few more), serves up an easy interface, and moves the retouching features outside the camera itself–good news for anyone with an older digital camera or a hard drive full of photos they'd like to adjust.
All in all, this ArcSoft app fires on all cylinders in terms of what most casual users look for in a basic photo-retouching app: It's free, fun, simple, useful, and a robust tool for harmless pranks.
Like this? You might also enjoy…
Get your GeekTech on: Twitter – Facebook – RSS | Tip us off