Logitech, one of the first backers of Google TV, is walking away after losing millions of dollars on its Revue set-top box.
With Google TV on the Revue, Logitech "executed a full scale launch with a beta product and it cost us dearly," a slide (pdf) from the company's analyst and investor day said.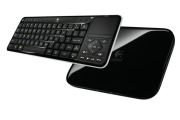 The Revue's failure, combined with operational problems in Europe, the Middle East, and Asia, cost Logitech well over $100 million in operating profit. It also prompted CEO Gerald Quindlen to step down last July.
So it's no surprise that Logitech is running away from Google TV. Current CEO Guerrino De Luca didn't rule out returning to the platform eventually, but for now De Luca said Logitech plans to sit "on the bench," according to The Verge. A "grandchild of Google TV" may have a chance at success in the future, De Luca said.
The first version of Google TV took criticism for its complicated interface, buggy and slow performance and lack of Web-based content, thanks in large part to TV networks blocking the software from their streaming video sites. And compared to cheap set-top boxes like Roku and Apple TV, Logitech's $300 Revue wasn't an easy sell. Logitech had to drop the price to $100 over the summer.
Google has updated the software with a simpler interface and support for Android apps, but with Logitech out and Sony showing interest in building its own connected TV platform, Google must now find new hardware partners. I wouldn't be surprised to see new Google TV boxes from Motorola Mobility, which Google is in the process of acquiring. Motorola is best known for its phones, but also produces set-top boxes for TV providers. But after seeing Logitech's failure, third-party device makers may be skittish about backing Google TV now.
Follow Jared on Facebook and Twitter or Google+ as well as Today @ PCWorld for even more tech news and commentary.