At a Glance
Expert's Rating
Pros
Streams media to other devices over Wi-Fi
Very sturdy design
Cons
Poor battery life
Sense overlay uses up most of the phone's RAM
Our Verdict
The HTC Evo Design is a good phone, but HTC's Sense overlay can be a big resource hog at times.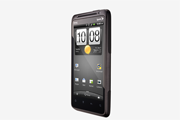 The HTC Evo Design 4G ($100 with a new two-year Sprint contract, as of November 9, 2011) is the smallest phone in Sprint's Evo line. It's also one of the more affordable Evo models currently available on the carrier, but the phone has a few issues surrounding the HTC Sense overlay.
Design
The Evo Design 4G, like other HTC phones, feels well crafted. The brushed-steel face brings a high-quality air to the handset, while the soft-rubber backing makes the Evo Design 4G comfortable to hold. Though it sports a good-looking 4-inch WVGA display, the Evo Design 4G never felt too bulky, and it fit comfortably in my jeans pocket as I walked around.
One interesting thing about the Evo Design 4G is that, unlike with previous Evo models, the entire back plate does not come off. To get to the battery or MicroSD card, you need to remove a small panel on the bottom half of the phone. The panel detaches relatively easily, but putting it back on can be a bit of a hassle.
Performance
Powered by a 1.2GHz single-core Snapdragon processor, the Evo Design 4G can handle most of the apps and games you might throw at it. While games such as Minecraft or Cordy won't run as fluidly as they would on a dual-core phone, less-demanding games like Angry Birds Rio should have no issues.
In my tests, iindividual apps ran fine, but things started to get messy when I opened more than four or five. Although the Evo Design 4G has 768MB of RAM, the HTC Sense overlay ties up most of it. No matter how many apps I closed or killed, I couldn't get the phone to use less than 400MB at any one time. For people who don't use more than one or two apps simultaneously, this won't be much of an issue–but the fact that the overlay hogs that much system memory remains unforgivable.
The Evo Design 4G is a dual-band phone that supports both CDMA and GSM connections. That flexibility is useful if you are in an area with low CDMA coverage but great GSM reception. Using GSM networks can cost you extra, though, so you should consult your carrier beforehand lest you rack up sky-high roaming charges.
Call quality over Sprint's voice network here in San Francisco was a mixed bag. While the calls I placed were free of any static or reverb, audio levels varied. One second I could hear the other person just fine, and the next, they sounded as if they were whispering into their microphone. The mic on the Evo Design did a good job of filtering out background noises, but on occasion it would pick up wind that hit it directly.
As the name implies, the Evo Design 4G is a 4G phone, running on Sprint's WiMax network. In our last round of network speed tests, we ranked Sprint's WiMax network as the slowest of the four major carriers (below T-Mobile). In my own unofficial speed tests, I managed to get upload speeds of around 1083 kilobits per second, but only a disappointing 703 kbps for downloads. I got those results in an area with a strong WiMax signal; you'll see varying speeds depending on the region you are in.
Battery life was equally disappointing. After merely 2 hours of moderate use (with the default settings, and with no downloaded apps running in the background), I managed to drain the battery from fully charged down to only 70 percent. Once I began to download apps, I saw the battery drop another 30 percent from there. You'll definitely want to have a charger on hand for this phone, especially if you are the type who browses the Web or downloads a lot of apps on mobile devices. I'll update this section with some hard numbers once we put the Evo Design 4G through our official battery-life tests.
Software
The Evo Design 4G runs Android 2.3.4 (Gingerbread) with the HTC Sense 3.0 user interface over it. You get access to some HTC-built features such as Leap (which lets you view all of your home screens at once) and the quick launcher in the lock screen. The quick launcher allows you to start up the camera, email, messages, or dialer apps without having to unlock the phone first. You can customize these shortcuts to point to any app that you have installed; they're handy for rapidly checking your text messages or email.
Aside from the Sense UI, the Evo Design 4G comes preloaded with a few Sprint-branded applications (TV, NASCAR, TeleNav, and the like), all of which you can uninstall if you don't want them.
Media
Considering the phone's slow data speeds, I was surprised to find that the HD video I streamed to the Evo Design 4G came out artifact-free. The 960-by-540-pixel, WVGA display showed videos with great clarity, and games looked as colorful as a box of crayons. The HTC music player is miles ahead of the stock Android one, and offers extras such as SRS audio enhancements and a cool-looking Cover Flow-esque way of presenting songs in an album. The speaker on the rear of the phone pumps out decent sound, but produces a hint of static at higher volumes.
The Evo Design 4G can stream audio, video, or photos to DLNA-compliant devices (such as smart TVs or PlayStation 3 consoles) that share the same Wi-Fi connection. It's a great feature for sharing your media with a large group of people, but you'll want to keep your phone plugged to a power source so that the battery doesn't die in the middle of streaming a movie for your friends.
Camera
Like most modern smartphones, the Evo Design 4G sports both front-facing and rear-facing cameras. The front-facing 1.3-megapixel camera, meant for use with video-calling applications like Qik or Tango, produced surprisingly clear video in my tests.
The rear 5-megapixel camera comes with a basic photo editor. It replicated colors well, but images could have been a bit sharper. The Evo Design 4G is capable of recording in 720p, too, but my videos suffered from a mild lag when I panned the camera. Nevertheless, the camera is serviceable enough for snapping everyday photos or catching a quick clip for YouTube.
Bottom Line
For Sprint customers on a budget, it'll be hard to decide between the HTC Evo Design 4G and the like-priced Samsung Nexus S 4G. If you want a slightly more powerful processor, and you're in love with the HTC Sense overlay (even if it is a resource hog), then pick up the Evo Design 4G. If you would like to experience an unmodified version of Android, go with the Nexus S 4G. Either way, you'll be getting a 4G phone that didn't cost you an arm and a leg.