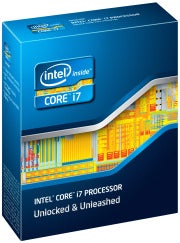 Intel's Sandy Bridge architecture stole the limelight this year, summarily trouncing its predecessors–and the best that AMD had to offer–with considerable performance boosts and power savings. Today Intel is announcing the Sandy Bridge Extreme Edition: a $990 CPU that distills the lessons the company has learned over the past year into a single piece of premium silicon.
It's a time-honored tradition: Take all the improvements from the most recent architecture shift, and drop them into an unlocked processor aimed at overclockers and workstations with considerable computational workloads.
Sitting at the top of the Sandy Bridge Extreme Edition lineup is the 3.3GHz Core i7-3960X. Here are the specs for it and the other two newcomers (the Core i7-3930K and the Core i7-3820), in handy chart form.

The new processors are built on the Sandy Bridge architecture, and the fundamentals haven't changed. Sandy Bridge Extreme Edition offers two CPUs with six cores, and one CPU with four cores. The Core i7-3960X I examined offers 15MB of L3 cache shared between the cores–up from 12MB in last year's variant, or from 8MB in the Core i7-2600K. That larger L3 cache permits quicker data exchanges among the cores, which improves performance in applications that are optimized for multiple cores.
With new processors comes the new X79 chipset, and Socket 2011. Yes, a brand-new socket; the sound you hear is a legion of serial upgraders howling with rage. For them, the new socket means having to spring for new motherboard, but the news it isn't entirely bad. When I met with Intel representatives, I was assured that the performance-oriented Socket 2011 will be with us for a few years — at least until an Extreme Edition of the 22-nanometer Ivy Bridge architecture makes the rounds.
For the frugal enthusiast, picking up a Core i7-3820 CPU is an intriguing option. That CPU is likely to be priced competitively with the existing Core i7-2600K–in the neighborhood of $300. Grab one of them when they're available, save your pennies, and you'll be ready to dive into whatever 22nm-based Extreme Edition goodness Intel comes up with a year from now.
What's New?
Intel parked its test Core i7-3960X CPU on a DX79SI "Siler" motherboard. The Siler is well equipped, to say the least. Eight DIMM slots offer a potential 64GB of RAM, with four DIMMs arranged on each side of the processor. This could pose a problem for some larger CPU fans. For my tests Intel provided an Asetek liquid cooling kit, but plenty of alternative cooling systems and motherboards supporting Socket 2011 will undoubtedly be available at or near launch.
Two USB 3.0 ports occupy the rear of the motherboard, with onboard connectors providing another pair for your case. The Siler supports a total of 14 USB ports–six on the rear, and eight on three onboard headers–with room for two FireWire ports as well. The available SATA channels are fairly standard: two 6.0GB/s SATA ports, four 3.0GB/s SATA ports.
For expansion the motherboard offers three PCI Express 3.0 x16 connectors for triple-SLI and Crossfire graphics card configurations, plus a few PCI Express and PCI connectors. The board also provides dual gigabit ethernet jacks, and an IR transmitter/receiver.
Turbo Boost returns, with some improvements. This is how it works: Processors have heat and power thresholds beyond which they become unstable and shut down, or worse. But since processors don't always hit the peak of their thermal design power (TDP), there is some headroom for overclocking.
Turbo Boost (and AMD's variant, dubbed Turbo Core) take advantage of that performance gap, boosting the performance of the operating cores until the TDP is reached, or until the task at hand is done. In the Core i7-3960X, Turbo Boost means a bump of 300MHz per core when five to six cores are active, and a bump of 600MHz per core when only one or two cores are active.
I paired the Core i7-3960X with the Radeon HD 6990 graphics card, 8GB of RAM, and a 1TB hard drive. To get an idea of where SandyBridge E sits in the grand scheme of things, I tested it against the 3.46GHz Core i7-990X, last year's Extreme Edition processor. For mere mortals there's the 3.4GHz Core i7-2600K, the cream of the current Sandy Bridge crop. With the exception of their motherboards our testbeds were identical, and all tests were performed on systems attached to a 30-inch display.
Testing: Synthetic Benchmarks
We started our data crunching with Cinebench, a simple synthetic benchmark developed by Maxon to measure a PC's processing power. The test renders a complex 3D scene, and puts all of a processor's available cores to task, with support for up to 64 cores. The i7-3960X and i7-990X are 6-core CPUs, for a total of 12 threads, care of Intel's hyperthreading technology. The Core i7-2600K offers 4 cores, for a total of 8 threads.
Once the scene is rendered, Cinebench assigns a score–higher is better. The results in our runs were fairly straightforward. The i7-3690X earned 10.53 points, the i7-990X earned 7.27 points, and the i7-2600K earned 6.97 points. Cinebench's test runs faster with more cores at its disposal, so the superiority of the Extreme Edition parts is to be expected. Of particular interest is the relatively small gap between the Core i7-990X and the Core i7-2600K. That's the Sandy Bridge effect–the 990X is built on Intel's Clarkdale architecture, which launched back in 2010. What a difference a year makes, eh?
Next we ran PCMark 7's Productivity test, which measures a machine's performance in a few multitasking and generic office application workloads. Once the test is complete, PC Mark 7 outputs a Productivity score. The Core i7-3960X earned a score of 2487, the Core i7-990X a score of 1947, and the Core i7-2600K a score of 2327. This lineup–Sandy Bridge up front, Clarkdale trailing–proved to be a recurring theme as we moved into testing that focused on the power of each core, and not necessarily a multitude of them.
Finally, we tested with Unigine Heaven, a DirectX 11-based benchmark built on a game engine that is currently in development. Though its results aren't directly comparable to real-world gaming, it does provide a good idea of how the different processors stack up, and what you could may encounter later in the life of your machine. Here is a chart of our Unigine Heaven benchmark results.
The results here were close–for the Core i7-990X and Core i7-2600K, at least. Evidently the architecture changes between Clarkdale and Sandy Bridge have yielded to some significant performance gains. Of particular relevance to gamers, the results indicate that throwing more cores at games doesn't necessarily produce superior performance. We'll see more evidence supporting that conclusion when we look at the results of our proper games tests.
Testing: Gaming
One of the games we used in our testing was Codemasters' Dirt 3, the latest entry in the software maker's rally racing series. Dirt 3 has everything we want in a DirectX 11 game: gorgeous visuals, frenetic pacing, and lots of knobs and levers to fiddle with, to make the most of the hardware we have on hand. here are our test results for this game.
At resolutions of 1680 by 1050 pixels and 1920 by 1080 pixels, the Core i7-3960X finished at the top of the heap, followed by the Core i7-2600K in second place, and the Core i7-990X in third. This is exactly what we expected. Applications that are designed to scale across a plethora of cores will show better results with six-core processors, as will future game engines (as we saw in the Unigine Heaven benchmark). But the most advanced games available today may not take full advantage of the extra headroom yet. And at these resolutions and settings, we're CPU-bound: We've squeezed out just about all the performance we can from the Radeon HD 6990, leaving the games to eke out as much power as they can draw from the processors.
At 2560-by-1600-pixel resolution, the Core i7-2600K actually climbed ahead of the Core i7-3690X by 5 frames per second, with 138.5 frames per second versus 133.1 fps. At the Ultra setting, the Core i7-2600K netted 76.5 frames per second, against the Core i7-3690X's 72.8.
The difference is negligible. Bear in mind that these tests run at stock speeds; the Core i7-3960X is an unlocked processor that's born and bred for overclocking, and those 4 to 5 frames per second will melt away once the CPU gets pushed beyond its meager 3.3GHz (or 3.9GHz, with Turbo Boost).
Crytek's Crysis 2 is a decidedly more strenuous game than Dirt 3, but in running it we're still CPU-bound. Here are our Crysis 2 results.
At 2560 by 1600 pixels, the Core i7-3690X maintained a frame rate of 67.4 fps, while the Core i7-2600K delivered 68.0 fps. With the settings ratcheted up another notch to Ultra, the Core i7-3690X netted 41.7 fps, to the Core i7-2600K's 41.8 fps.
Testing: Media and Power
When I put Sandy Bridge to the test earlier this year, I was especially impressed by Intel's Quick Sync technology. Quick Sync was designed to speed up video transcoding efforts without requiring a discrete graphics card, and it works well — but it doesn't show up on Intel's higher-end wares. The company's rationale is that, if you're buying a $300 (or $1000) processor, you probably plan to pair it with a proper graphics card.
I converted a 1080p version of Big Buck Bunny to an iPad friendly 720p, using Arcsoft's Media Converter 7 software. As Quick Sync wasn't available, I went with AMD Stream hardware acceleration technology, built for AMD's graphics cards. The results: The Core i7-3960X transcoded the video in an average of 2 minutes, 13 seconds, while the Core i7-990X took 3 minutes, 12 seconds, and the Core i7-2600K took 2 minutes, 17 seconds.
Usually, with great performance comes great power consumption. That said, though the Core i7-3960X sports a 130W TDP, those specs don't represent too much of a leap over the Core i7-2600K and its 95W TDP.
When sitting idle, the Core i7-3960X drew 112 watts of power, the Core i7-990X drew 119 watts, and the Core i7-2600K drew 93.6 watts. That works out to a 20 percent jump over the 2600K for the 3960X–considerable, but hardly beyond the pale. The greater offender against power efficiency here is the Core i7-990X, but again this result just goes to show Sandy Bridge's improved power savings.
Power consumption while under load maintained roughly the same pattern for the three CPUs. Over the course of a strenuous workload, the Core i7-3690X used 5 percent less power than the Core i7-990X, and 24 percent more power than the Core i7-2600K.
Serious Inquiries Only
The Core i7-3960X is a worthy successor to last year's Extreme Edition processors, but the same caveats apply to it as to them. You'll see the greatest benefit in programs that are heavily threaded–computation-heavy spreadsheets, video encoding applications like Sony Vegas Pro, and 3D rendering applications like Maxon Cinema 4D, for example.
On the gaming front, whether you use Intel's excellent overclocking assistant or muck about in the BIOS, you'll be able to cobble together a nauseatingly potent performance machine. And if a $1000 CPU is within your gaming budget, you can't go wrong. This processor is poised to be the foundation of many of 2012's performance desktop juggernauts, and a few early efforts that have already trickled into the lab are sure to make waves. But if you aren't overclocking–or looking to get some gaming done–you don't need this much power.
Ivy Bridge does throw a wrench into the works. At the moment, we know very little about the platform: It'll be shrunk down to the 22nm processor, which should cut power consumption a bit.
Is Sandy Bridge E worth it? Even at $1000, the answer is a resounding yes–if you're using the right apps, are a dedicated overclocker, or have barrels of cash that you simply can't spend fast enough.