Gadget gurus have been testing out Amazon's Kindle Fire media tablet ahead of the device's Tuesday ship date and the consensus is that it's a solid alternative to the iPad for some environments. The Fire even matches the device when it comes to breadth of downloadable content to put on the new tablet, thanks to Amazon's wealth of digital content, including e-books, movies, television shows, Android apps, and, of course, e-books.
If you're still on the fence about whether Amazon's Kindle Fire media consumption tablet is for you, here are five themes pulled from early Fire reviews by Engadget's Tim Stevens, The Chicago Sun-Times' Andy Ihnatko, The New York Times' David Pogue, The Verge's Joshua Topolsky and ZDNet's Larry Dignan.
PC World will soon publish its review online, but check out Melissa J. Perenson's preview, "Up Close With The Kindle Fire," for a detailed look at what the device has to offer.
Hardware Feels Solid
The consensus appears to be that the Fire feels like a solid device when you hold it in your hands, and its weight may surprise you. The Fire weighs 0.91 pounds, versus the iPad's 1.33-pound heft. Despite the relatively modest difference in weight, most reviewers found it considerably easier to hold the Fire for several hours of reading compared to the iPad.
Any discussion of the Fire's hardware seems to reference its resemblance to the BlackBerry PlayBook. Reviews almost universally see shades of the PlayBook in the Fire, but the PlayBook is noticeably larger and control buttons are placed differently. PC World's "Kindle Fire: Up Close With Amazon's Media Tablet" includes a side-by-side look at the Fire and the PlayBook.
It's Hard Not to Buy Stuff
Amazon's new tablet is all about consumption (especially of items sold on Amazon), so it's no surprise to find out that Amazon makes it easy to purchase new books, movies, magazines, and apps on the Fire. Engadget warns that the Fire's shopping experience may be "too easy for those whose buying impulses outweigh their budget-keeping abilities."
ZDNet echoes that sentiment, calling the Fire an "impulse purchase device." Ihnatko of the Sun-Times agrees, noting, "Store content feels more like stuff of yours that you simply haven't purchased yet."
Perhaps so, but Verge says Amazon's shopping experience on the fire is "better and more elegantly [done] than anyone else," including Apple's iPad.
Silk Not Noticeably Faster
Amazon promises a speedier browser with its new Silk browser that feeds web pages to your device from caches on Amazon's servers. Silk also has a predictive element that will start preloading web pages for you based on past behavior. So if most Silk users visiting The Wall Street Journal head straight to the site's "Markets" section, Silk will load those pages behind the scenes.

But for all its page load trickery, reviewers report little difference between the Silk and other tablet browsers. Comparing page load times on the Fire to the iPad, Pogue says, "the iPad took about half as long each time." Other reviewers make similar comparisons and the Silk browser was either slower or comparable to browsers on other tablets including the iPad 2, Samsung Galaxy Tabm and Blackberry PlayBook.
The Minimal Storage Debate
The Fire comes with only 8GB of storage while the base models for Barnes & Noble's forthcoming Nook Tablet and the iPad come with 16GB. Opinion is mixed on whether this is a bad thing. "Onboard storage is far less important to a Kindle Fire…thanks to the Fire's intimate connection to Amazon's cloud services," Ihnatko says.
Dignan agrees, saying, "Cloud and local storage blends together well. That equation changes when disconnected, but 8GB can get you through cross-country flight without any issues."
But Engadget and the Verge both warn that people used to saving their content on local storage instead of relying on the cloud may find the Fire's minimal storage problematic. "If you're the type who likes to load down your tablet before spending a few hours or days offline, you might find this single, tiny capacity a bit restrictive," Engadget says.
Display: Good But Not Great
The Fire's display isn't winning over fans either, but neither the news all bad. The device has a 7-inch display with 1024-by-600 resolution with 169 pixels per inch. Watching videos was fine by most accounts, but the Fire's small, 7-inch display came up short when reading magazines, children's books, and comic books. "We constantly found ourselves zooming in and out to read," Engadget says.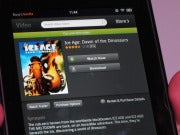 "I found magazine reading to be a little cramped on the small display, and zooming and panning around lacks a smoothness that would make the experience more enjoyable," Verge's Topolsky says. Others have similar criticisms about reading magazines and other large-format content on the smaller screen.
Some Fire attributes bear watching. For example, how do tablet apps from Amazon's Appstore for Android compare to Google's Android Market? Answer: The selection is much smaller. How well does sideloading work to pull apps downloaded to your PC into the device? Answer: Opinions are mixed. What about the Fire's Android roots; is there any trace of Google's mobile OS in the Fire? Answer: Yes, in the keyboard, notifications panel, and settings menus, but that's pretty much it.
Overall, early Fire reviews declare Amazon's hardware an interesting device and one well worth trying out if you're interested primarily in consuming media content on a tablet. But if you are looking for something that can function as a short-term laptop replacement on business trips or your next vacation, then the consensus is the iPad is still the tablet for you.
Connect with Ian Paul (@ianpaul) and Today@PCWorld on Twitter for the latest tech news and analysis.