At a Glance
Expert's Rating
Pros
Inexpensive
Good selection of preinstalled apps
Fast 4G connection
Cons
Not enough RAM, can be sluggish
Short battery life
AMOLED display has poor viewing angles
Our Verdict
The Exhibit II 4G offers great value for a cheap 4G phone, but don't buy it expecting the same performance as you'd get on a high-end smartphone.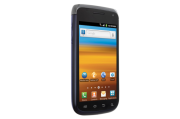 How often do you use your phone to call people? Odds are, you want a smartphone for all the "smart" things it does with the mobile Internet connection, not for the "phone" itself. That's the idea behind the Samsung Exhibit II 4G ($200 contract-free; price as of November 11, 2011), which T-Mobile is offering as its flagship handset for its new partner plan with Walmart, which provides 5GB of 4G data, unlimited texting, and 100 voice minutes for $30 a month, no contract necessary.
I used the Exhibit II 4G to see whether mobile VoIP was good enough for me to do without a voice plan; read "Going VoIP-Only: Do You Still Need Cellular Voice Service?" for the full story.
The Specs Compared
Although the T-Mobile/Walmart plan is undoubtedly compelling, it's only as good as the smartphone you're using with it–as demonstrated by the major, full-featured handsets at the high end of the prepaid-smartphone spectrum, such as the Motorola Triumph.
Looking at the specs alone, the Exhibit II 4G is in good company among the prepaid crowd, though it doesn't hold a candle to high-end phones like the Samsung Galaxy S II. This phone has a 1GHz Qualcomm processor, 512MB RAM, a 3.7-inch WVGA (480-by-800-pixel) AMOLED display, and a pair of cameras (a 3.2-megapixel rear-facing camera and a VGA front-facing camera). It runs Android 2.3 (Gingerbread) with Samsung's TouchWiz custom overlay, which adds an application monitor, a few file-management functions, and some extra features to the home screen.
Design
Physically, the Exhibit II 4G feels like a lighter, slightly smaller version of the Samsung Vibrant (T-Mobile's first Galaxy S phone). The phone itself is 4.5 by 2.35 by 0.45 inches, and it weighs 4 ounces. The four face buttons are capacitive, not hardware, and since the phone doesn't have haptic feedback they don't always feel quite as responsive as I'd like. The power/wake button is on the left edge, the volume rocker switch is on the right edge, and the headphone jack and Mini-USB port are on the top. I found that I would hit the volume rocker accidentally fairly often, and I had a hard time consistently finding the power/wake button when reaching for it in my pocket, but neither issue would be a deal-breaker for me.
At first I thought the display looked great–something I expect from Samsung phones–but when I actually tried to use the Exhibit II 4G, I found that the screen was often difficult to see from off angles, or when I walked outdoors in a well-lit area, unless I turned the brightness up all the way. Even with the display at half brightness, I had problems seeing it during the day. It's fine for watching a movie on the bus, but not so great when you're trying to use your phone to call or text someone while standing in sunlight.
And yes, you will likely need to turn the display brightness down, because the battery life isn't all that great. While most smartphone owners are used to charging their devices every day, you'll definitely need to carry a charger around for the Exhibit II 4G. Of course, applications that really work the phone's processor and network connection would wipe out any handset's battery, but in my trials I could spend a whole day with the phone in my pocket (no calls, no music, nothing) and burn through 60 percent of the battery's charge by the time I got out of work. Keeping the display brightness down stretched the battery out to a comfortable length–enough that I usually didn't have to worry about it dying on me if I was staying out after work–but that, in turn, made the Exhibit II 4G harder to use.
Since the Exhibit II 4G's screen is slightly smaller than the other smartphone displays I'm used to (like those of the Samsung Vibrant and the HTC Evo Shift 4G), I had a pretty hard time typing out text messages and URLs in the beginning. Things got a little better when I switched from the default Samsung keyboard to Swype, which comes preinstalled.
Software
As I mentioned previously, the Exhibit II 4G runs Android Gingerbread with the TouchWiz custom overlay. I'm not a big fan of most manufacturer-imposed custom overlays, and TouchWiz is no exception. The best I can say about it is that it doesn't get in the way.
The Exhibit II 4G does come with a good selection of preinstalled apps, including Bejeweled 2, Lookout AntiVirus, Slacker Radio, TeleNav GPS, Tetris, and a few T-Mobile services such as T-Mobile TV HD and some account-management utilities. Normally I don't like preinstalled stuff on a new phone, but most of the Exhibit II 4G's preinstalled apps seem somewhat useful–not like the crapware that you usually find on a new PC. However, you can't uninstall the apps without rooting your phone.
Performance
In practice, the Exhibit II 4G's specs felt like the bare minimum required to run apps that would make use of the speedy 4G connection. Although the phone itself was powerful enough to handle streaming video and music over the 4G connection without a problem, and although it felt responsive enough when I played around in Minecraft: Pocket Edition, I noticed significant slowdown when I tried switching apps and navigating menus while other tasks were running. I suspect that this slowdown is mostly attributable to the phone's fairly low amount of RAM. And while I was able to watch live video streams from Twitch.TV via mobile Flash, the phone itself wasn't very responsive while I was loading the Flash app or trying to close it.
The 4G connection was fast enough to handle Web browsing, streaming media, and other everyday smartphone tasks with ease. My network speed tests varied from as low as 863 kilobits per second downstream/233 kbps upstream/586ms latency to as high as 4.5 megabits per second down/1.4mbps up/52ms latency. That low score is relatively weak even for a 3G connection, while the high score is very good by 4G network speed standards. However, the Exhibit II 4G is limited to using T-Mobile's HSPA+14.4 network, not the carrier's newer HSPA+42 network, so T-Mobile's upcoming 4G phones may leave the Exhibit II 4G in the dust.
Camera
The camera won't win any awards: 3.2 megapixels is pretty low by today's standards, after all. It's enough for snapping everyday photos of cats and food, and it has an LED flash to help you illuminate dimly lit scenes, but that's about it. In my tests it handled both dimly lit and brightly lit situations reasonably well, though my low-light shots were a bit grainy. Frankly, the image resolution is so low that a shot that seems fairly good on the phone itself merely looks small once you post it on Facebook or Twitter.
Bottom Line
Between the $200 price tag for the phone itself and the $30 per month for 4G service, it's hard to find a better value if you're a budget-minded smartphone shopper. If you don't need much talk time (or if you're willing to try going VoIP-only), the Samsung Exhibit II 4G is a solid smartphone with a very reasonable price tag. This phone won't deliver the same power as a high-end handset such as the iPhone 4S or the Samsung Galaxy S II–but for the price, it's a darn good deal.