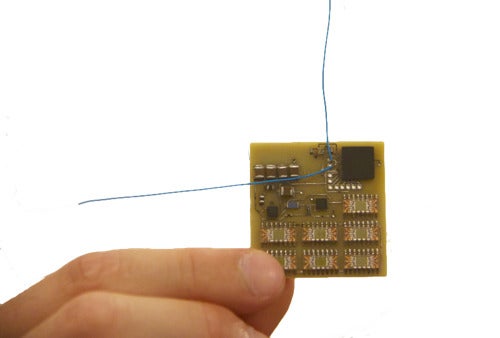 I'm pretty confident that everyone reading this blog would, if given the chance, go and explore space in some form be it in person or via satellite. Who wouldn't want to see what's out there, or even just see how Earth looks from afar? A graduate Aerospace Engineering student from Cornell University may have a solution to let anybody explore outer space, and he was inspired by a single speck of dust.
Zac Manchester has compared the way in which dust travels effortlessly around in flight, moving on thermal currents void of gravity, no matter the size. He also looked at the size and expense of the current spaceships launching into space and thought, "Why not make spacecraft considerably smaller, cheaper, and accessible for everyone?" This is how little Sprites and KickSat came to be.
A Sprite spacecraft is a small circuit board–no bigger than a postage stamp–made up of a radio, solar cells, a microcontroller, along with assorted capacitors and antennas. The current model can transmit small amounts of data and its name back to Earth. A large number of these Sprites will be placed into the mini satellite KickSat, a box with a lid and spring-loaded stacks for the little chips, and then launched into space.
KickSat is programmed to deploy the Sprites within Earth's orbit, and from there they will go on to cruise outer space. Once deployed, Zac and his team will track the Sprites and their radio signals, as well as see how well the current models hold up outside of the Earth's atmosphere.
One of the perks of these minute spacecrafts is that after a few days or weeks, they will re-enter Earth's atmosphere, therefore leaving no space debris nbehind; KickSat will also simply burn up.
This project is currently just a prototype. Zac is trying to raise some funding via Kickstarter; from there, he'll look to NASA to take part in a particular launch program. Of course, if enough money is raised, the team can go ahead and take part in a commercial launch.
Of course, if you want your own Sprite, you'll have to part with at least $300, but think of the fascinating data that these stamp-size mini-spacecraft could collect. And considering the cost of a typical space mission, and it may not seem like such a big expense after all. You can learn more about the project on Zac's research website.
Like this? You might also enjoy…
Get your GeekTech on: Twitter – Facebook – RSS | Tip us off