Adobe released six new Touch Apps for the Android market on Monday, along with the Creative Cloud, which integrates content across the new apps with the desktop Creative Suite. The apps are optimized for a touchscreen interface and address multiple steps in the creative workflow, including image editing, ideation, sketching, mood boards, wireframing, and presenting all of that work to clients.
Assets stored in the Creative Cloud–which offers 20GB of free storage–are accessible across the various apps. They can be shared, viewed in a Web browser, and imported into Adobe Creative Suite for the desktop. Together these apps create a compelling case for integrating an Android tablet into your creative workflow.
Each of the apps is available as a $9.99 standalone product in the Android Market. Adobe Touch Apps will run on tablets with screens 8.9″ or larger, at least 1280×800 pixels, and Android 3.1 or higher. Here's what I saw during an early look at these Android apps at Adobe's San Francisco offices on Monday.
Adobe Photoshop Touch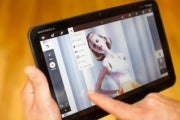 Built to work with finger gestures, Photoshop Touch for Android lets you manage and manipulate photos and images on a tablet. The selection tool works with rough outlines scribbled in with fingers, and intelligently selects areas to keep or remove. A Refine Edge tool helps in selecting more detailed areas with soft edges, such as hair. The capability of the tool to pick out selections was impressive in the demo, making up for the imprecise nature of using a finger to select parts of an image. Popular edits and many professional effects are also available.
The app supports images up to 1600×1600 pixels with up to 16 layers. You can bring in images to work with from local storage, the tablet's camera, Facebook, Google searches, and Adobe Creative Cloud. Images are stored in a new file type called PSDX which can be brought into the desktop version of Photoshop via a plug-in.
Adobe Collage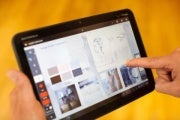 You can add assets from the camera, Creative Cloud, Flickr, Google, YouTube, and Web clippings to create mood boards with Adobe Collage. Source URLs for images brought in from the Web are stored as part of the image data, so you can keep track of where things came from. A simple masking tool is available for cutting out parts of images, along with a text tool and several drawing tools for adding comments and annotations to the board.
Adobe Debut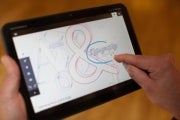 Debut is a presentation tool that displays tablet-compatible versions of Creative Suite assets, including Photoshop layers, Illustrator art boards, both JPG and PDF files, and more. Assets are brought in from Creative Cloud and organized via drag-and-drop for presentations to clients. You can then add feedback from the presentations with a markup pen tool.
Adobe Ideas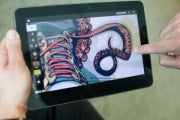 Similar to the app already available for iPad and iPhone, Ideas for Android is a vector-based drawing app. With vector drawing, lines will appear smooth at any zoom level. Unlike the iPad app, which supports up to 10 layers, the Android app will only give you two layers: a drawing layer and a background image layer. You can bring in any image file to serve as your background, but you can only draw one layer on top of it. You'll have to move the drawing over to Photoshop or Illustrator on a desktop for further refinement.
Pen options include size, opacity, and color, and Ideas integrates with the Creative Cloud to get color swatches from Kuler–or you can pick your colors from a color wheel. There is no support for pressure sensitivity in tablets with active digitizers at this time.
Adobe Kuler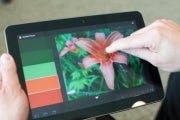 Kuler is an app for generating and sharing color themes and swatches. You can start with one of many publicly available themes in the creative community, pull colors from an image, or start from scratch. There are several options for constraining the colors to either contrasting or complementary colors, or to shades of the same color to help those of us who are more color-challenged. You can share or keep private new themes that you create. Kuler swatches are also available to other Touch Apps through the Creative Cloud.
Adobe Proto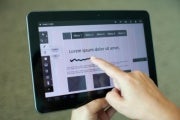 Proto is a wireframing app for prototyping mobile apps and websites. Gestures and rough shapes are translated into page elements, such as headers, navigation menus, or body text–and are linked to other pages to create an interactive wireframe. The gesture and shape conversion was particularly impressive, turning quick scribbles into clean page elements. Templates for mobile sites or standard sites will keep the design constrained horizontally, but the page can go as long as you'd like vertically. Grids and smart guides keep everything lined up and clean.
Stay tuned for full reviews of these new Android apps.